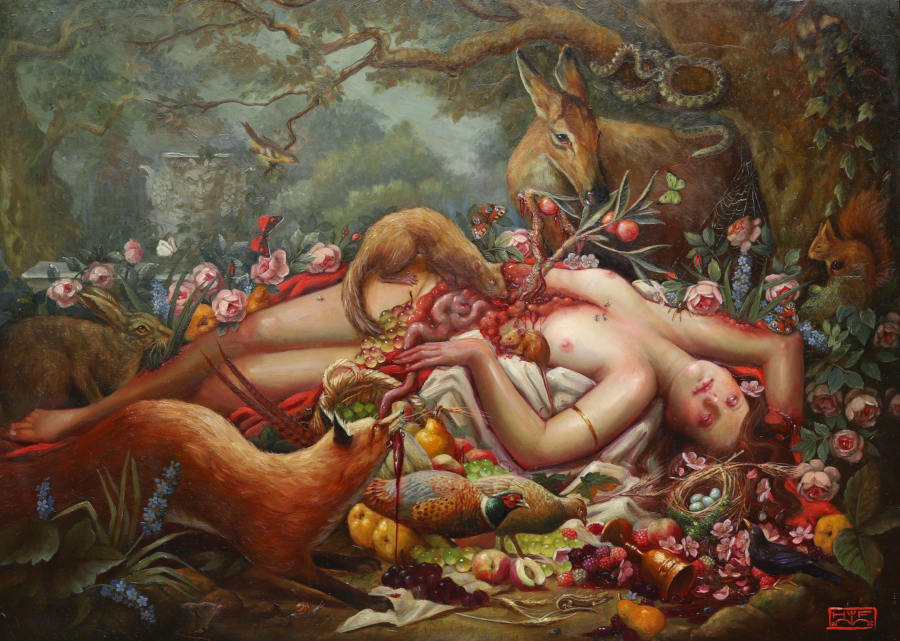 3rd Prize Winner
RAYMAR Traditional Art Award
Beautiful Bizarre Art Prize 2022
Hannah Flowers
Title:
"Devouring of the Odalisque"
Medium & Dimensions:
Oil on wood panel, 50″ x 70″
Hannah's work was published in Issue 39 of Beautiful Bizarre Magazine.e.
About the Artist
Hannah Flowers is a self taught artist from Tasmania, Australia, currently residing in Scotland, UK. She began her artistic career as a tattoo artist and is well known in this field. In recent years she has turned her attention to painting, to be able to create work of a more personal nature. She combines the design skills learned from many years of tattooing with a love of the unique and subtle textures and colours that oil paint can achieve. She is currently exploring the push and pull between the grotesque and the beautiful within her work.
"Devouring of the Odalisque": As the hunter's daughter grew rich and succulent on the flesh of her fellow forest dwellers, she scarcely suspected her slothfully tenderized luck. Now in the forest's fortune, she passes back those wantonly pilfered nutrients; returning them to the blissful ignorance of life's humble embrace.