3rd Prize Winner: David Seidman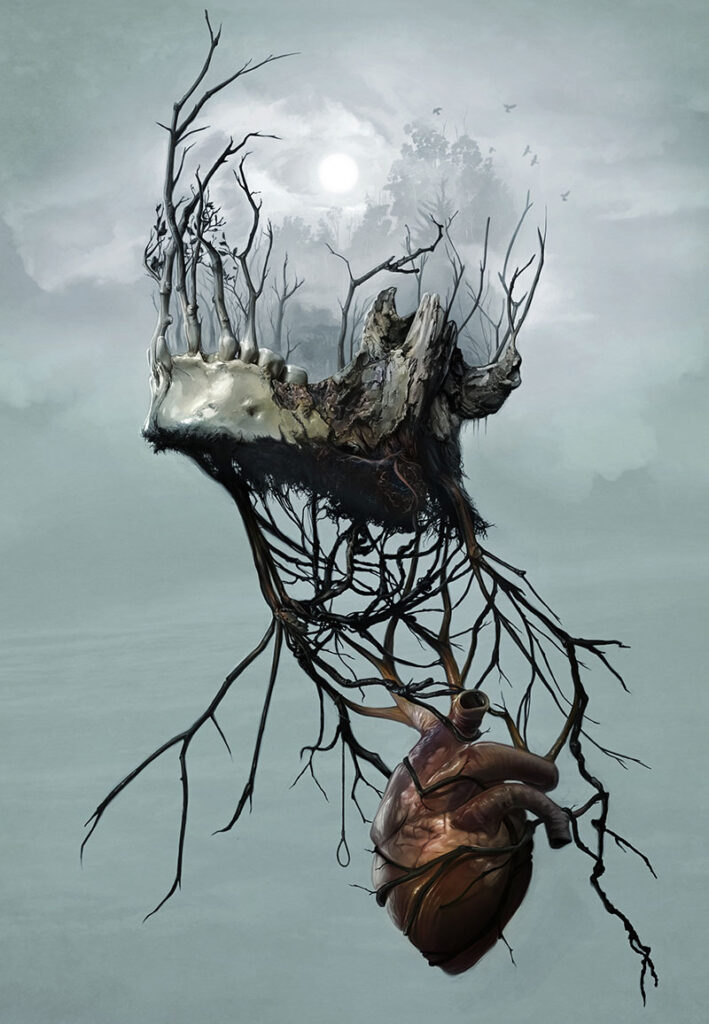 3rd Prize Winner
David Seidman
"Aokigahara" [Digital Painting, Adobe Photoshop & Wacom]
David Seidman is a digital painter whose dark dreamlike images evoke both the surrealistic and supernatural. Early in his career, David brought the seven deadly sins to life as the cover artist on the highly acclaimed comic book series, Se7en. With a clever mix of the beautiful and macabre, David's work has been commissioned by Ripley's Believe it or Not (comics), Orbit and Wizards of the Coast (book covers), and even popular rock band Coheed and Cambria where he painted several of their live stage backdrops. David's immersive worlds filled with stories and symbolism has been recognized by leading art books such as, Spectrum, Infected By Art, D'Artiste and Expose. His work has also been featured internationally in gallery shows as well as being a regular artist with several successful solo shows at Arch Enemy Arts in his hometown of Philadelphia, USA.
"Aokigahara", also known as the "suicide forest," is a Japanese forest located at Mount Fuji. Feeling the pressure of everything in their hearts, up to 105 people die in the forest each year. Some even believe that the ghosts, or yūrei, have permeated the trees and have become one with the forest.
2nd Prize Winner:

Tomasz Strzalkowski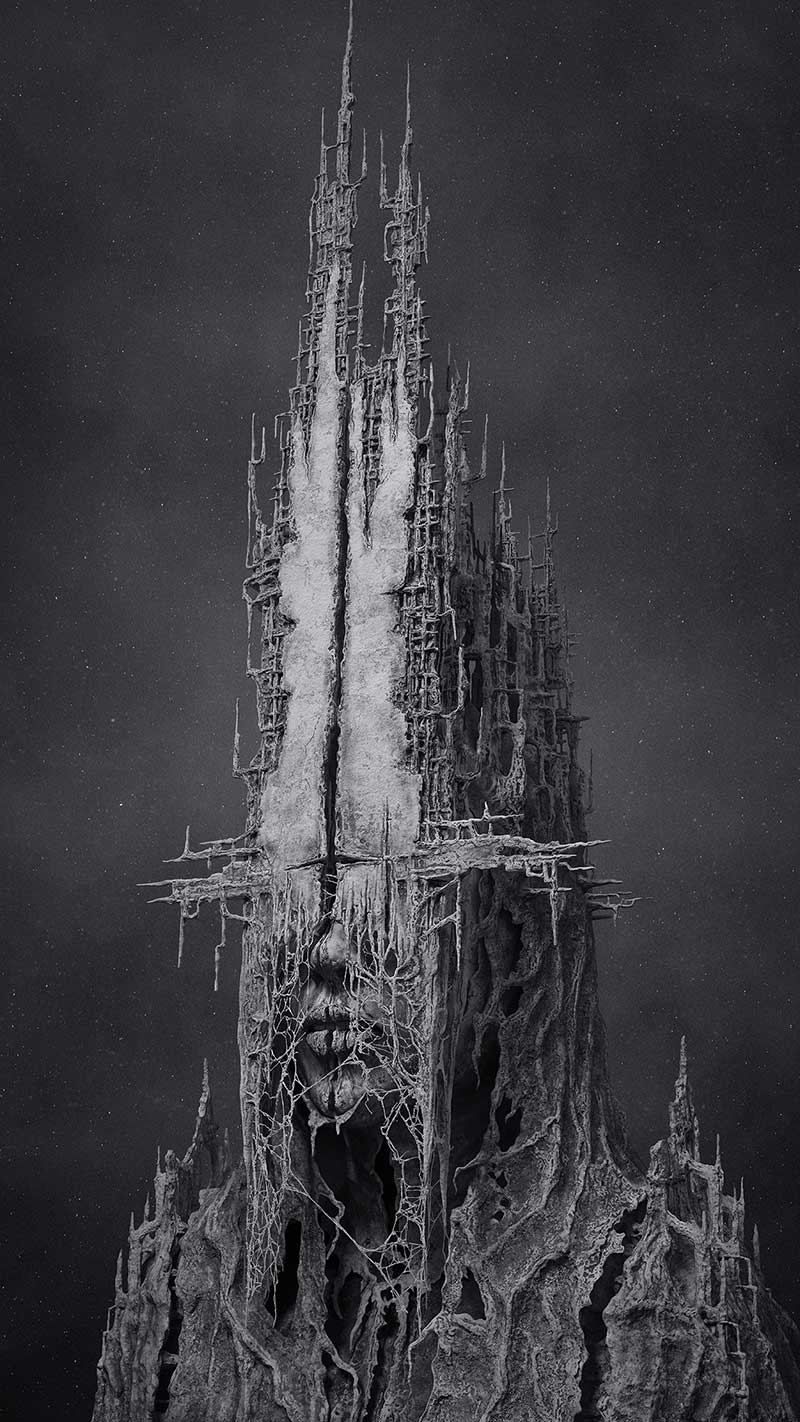 2nd Prize Winner
Tomasz Strzalkowski
"Monument" [Digital 3 Dimensional, Zbrush, Keyshot, Adobe Photoshop, Wacom Cintiq]
Professionally and privately, 3D graphics enthusiast Tomasz Strzalkowski has been working in the gaming industry for the entirety of his career. He exhibits his works around the world, his art is featured in brand magazines such as 3D Artist, 3D World, Creative Magazine, ImagineFX as well as albums Digital Art Masters, BIOMECH ART:Surrealism, Cyborgs and Alien Universe, Masters of Contemporary Fine Art, Sketching from the Imagination, etc. During his career he has worked on games such as: Painkiller, Bulletstorm, NecroVisioN, Gears of War and Godfire.
"Monument" is a modeling and texturing artwork made in Zbrush, rendered in Keyshot and composed in Adobe Photoshop.
1st Prize Winner: Billelis & Sick666Mick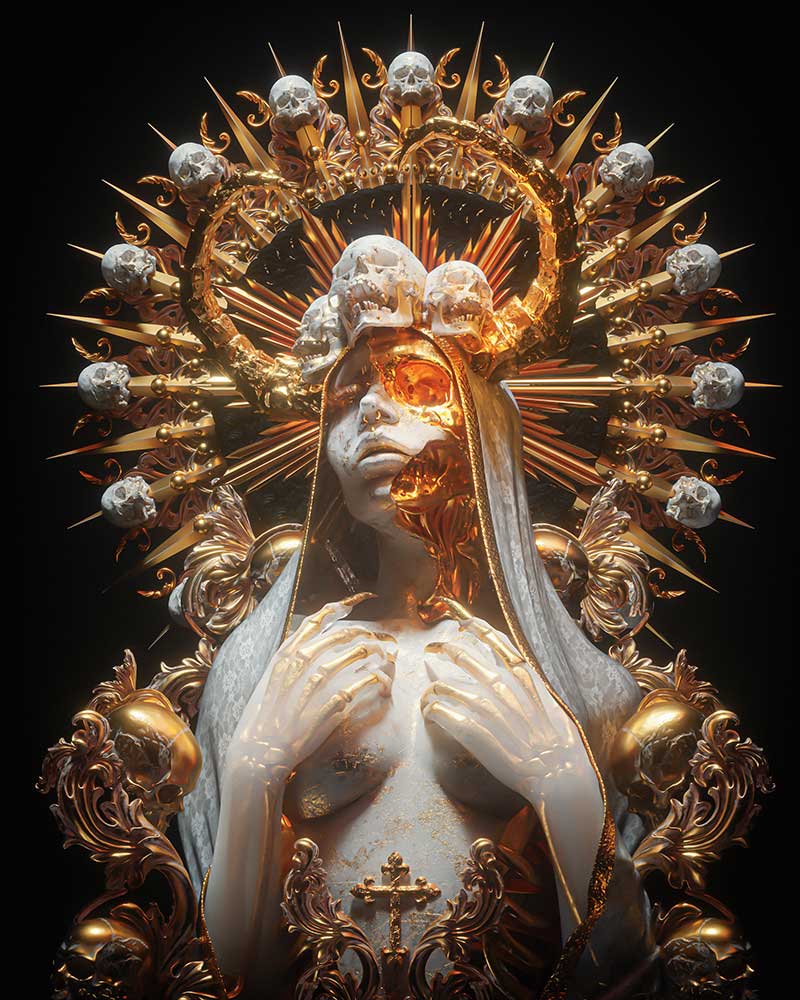 1st Prize Winner
Billelis & Sick666Mick
"Necro Maria" [Digital 3 Dimensional, Cinema 4D, Zbrush]
Billelis is a freelance 3D Illustrator & Art Director specialising in dark visuals and decorative art. He spends countless hours experimenting, learning and expanding his artistic skill set to create a personal style that can be best described as a dark, yet elegant, romantic fusion. He has a keen eye for intricate detail, as well bold contrasting colours, and his work has often been described as hyperreal. Equipped with an overactive imagination, his sketchbook and a perpetual artistic hunger, Billelis aims to be a distinct source of creativity.
Sick666Mick worked as an architect for 5 years, but his great love of games led him into games development, where there are more opportunities for creativity. He has been in the gaming industry for 8 years. In an effort to escape reality, he creates personal work in his free time which is currently more of a hobby – a reflection of the darker side of personality. Sick666Mick is inspired by heavy music, films and of course games.
"Necro Maria" is part of a series of 3D illustrations exploring the themes and fear of demonic beings, worship of the Holy Mary and what is becoming our newest religion: technology and robotics. Billelis and Sick666Mick have collaborated mixing cyberpunk influences, religious compositions and dark subjects.
Thank you & Acknowledgements
Congratulations to the 2019 Beautiful Bizarre Art Prize Digital Art Award Winners, Billelis & Sick666Mick, Tomasz Strzalkowski and David Seidman!
Thanks again to all of the artists who entered, sharing their work and their creative vision with us. It was such a pleasure to immerse myself in the work of so many creatives from around the world and to delve into their practice. As Beautiful Bizarre Magazine's Editor-in-Chief I have the pleasure and honour of curating each issue of the magazine and curating our yearly exhibitions! The many wonderful and talented Art Prize entries we received have given me a plethora of new ideas and choices to pursue in future. I will also be taking the opportunity to share many of the amazing entries submitted over the coming months on our social media platforms, as I truly believe that all of these artists deserve more recognition and promotion of their work.  So thank you again for your interest in the Beautiful Bizarre Art Prize, I very much hope to see how your work has grown and developed in next year's Prize.
I would also like to sincerely thank the 2019 Jury Panel, particularly the Digital Art Category Judge, Tom Bagshaw who gave his time and expertise to the panel, the other Category Judges, Crystal Morey [Sculpture] Jeremy Geddes [Traditional Art], Haris Nukem [Photography], representatives from our amazing sponsors INPRNT and Stocksy United, Directors of Haven Gallery Erica and Joseph, and of course to my partner Beautiful Bizarre Magazine's Co-Founder Richard Purssey. The judging process was extremely difficult with so many exceptional entries, so thank you again!
Finally I would like to once again extend my thanks to this year's Digital Art Award sponsors listed below. It is through your generosity that the Sculpture Award Winners will be able to enrich their practice. ~ Danijela Krha Purssey, Co-Founder & Editor-in-Chief, Beautiful Bizarre Magazine.
Digital Art Award
The Digital Art Award 1st Prize Winner will receive:
2nd and 3rd Prize Winners will receive:
12 month print subscription to Beautiful Bizarre Magazine to inspire their practice
An exclusive in-depth interview published on the Beautiful Bizarre Art Prize and Beautiful Bizarre Magazine websites.
Timeline
21 Oct 2019: Sculpture Award Winners announced
22 Oct 2019: Stocksy United Photography Award Winners announced
23 Oct 2019: Digital Art Award Winners announced
24 Oct 2019: INPRNT Traditional Art Award Winners announced
25 Oct 2019: Beautiful Bizarre Art Prize 1st Prize Winner, Honourable Mentions & People's Choice Winners announced
14 Dec 2019: Awards presentation and opening reception of the Beautiful Bizarre curated exhibition 'Ritual' at Haven Gallery, Northport, New York USA. (1st Prize Winners will contribute an original work in keeping with the 'Ritual' theme)
12 Jan 2020: 'Ritual' exhibition at Haven Gallery closes.
SPONSORED BY
SUPPORTING SPONSORS