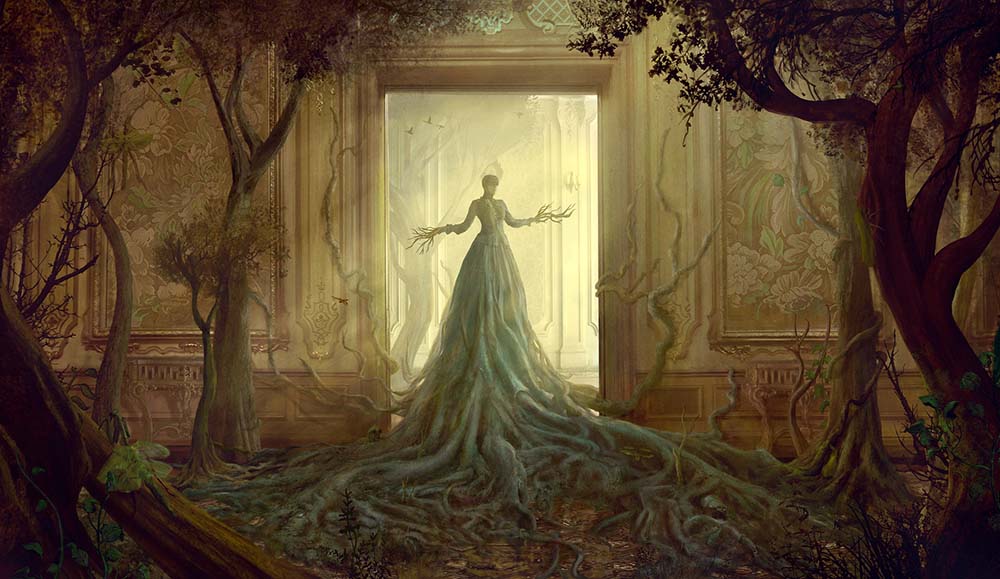 Honourable Mention
Beautiful Bizarre Art Prize 2022
Awarded by iCanvas
Nikolina Petolas
Title:
"Whispers"
Medium & Dimensions:
Digital collage (Canon 5DSR, Procreate, Photoshop)
About the Artist
Nikolina Petolas is a Croatian visual artist, working in the realm of contemporary surrealism. With elements of subtle allegory, she expresses her eerie visions through screenshots of the imaginary story, by guiding a viewer on a journey through visionary interpretations of her fictional worlds. Her surreal worlds were noticed by Salvatore Ferragamo, for whom she worked as a sole concept and visual development artist, creating visuals for the latest campaign Storie di Seta. Visual interpretations of animal fables with profound detailed compositions in her signature 'Tale of the Blue Pear' series have been recognized by private collectors worldwide and luxury venues such as Seabourn and Marriot autograph collection. Nikolina's work has gained multiple international awards and has been shown in numerous international exhibitions as well as several art projects. Her work was exhibited globally, in galleries and museums of Europe, USA, Asia.
"Whispers": Artwork is based on Tale of the Blue Pear, a multi-awarded series about a woman who has lost her heart, and enters a parallel universe, hoping to find it again. There she finds talking animals, strange characters, giant beings, superpowers, as well as her own alter egos.