It can be odd to link the line spoken by Marcellus in Hamlet with the surrealistic, hyper-realistic paintings by Japanese artist Kazuhiro Hori aka Chardin Chardin (a 2018 Beautiful Bizarre Magazine Art Prize, 2nd Prize Winner). But, in a way, they both express a timeless sensation that only artists and people with a specific sensibility can feel: that the darkest things can hide in the sweetest ones.
2019 Beautiful Bizarre Art Prize entries are now open! To be in the draw to win global exposure + over US$20,000 in cash and prizes, check out the details and enter today!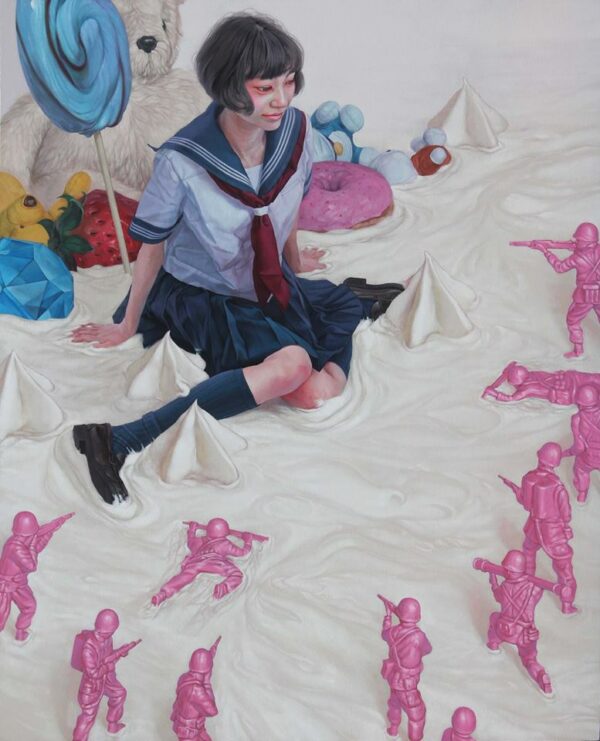 Indeed, at first sight, the heroines of the painter are evolving in a girly paradise, with giant cuddly toys, cute animals and enough oversized sugary treats to put Willy Wonka's Chocolate Factory to shame. But when you really immerse yourself in the artworks, you'll soon realize that, yes, something is troubling in the State of Dessert. No blatant daddy's issue, no heartbroken Ophelia, no murders; but there, darkness is a shade of pink like another. Both the candies and teddies seem menacing, and the school girls, with their Lolita's look, could teach the characters of novel Less Than Zero some things about ennui, numbness and corruption.
So yes, you can find poetry and beauty in the pop-surrealism of Kazuhiro Hori, but also a spoonful of bizarre and disturbing. Not surprising he won 2nd place in the Beautiful Bizarre Art Prize 2018… at this occasion, we chatted with him to learn about the origins of his offbeat universe.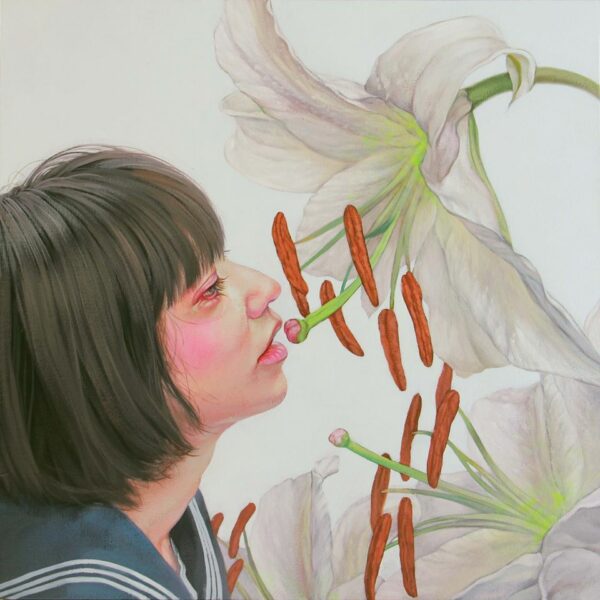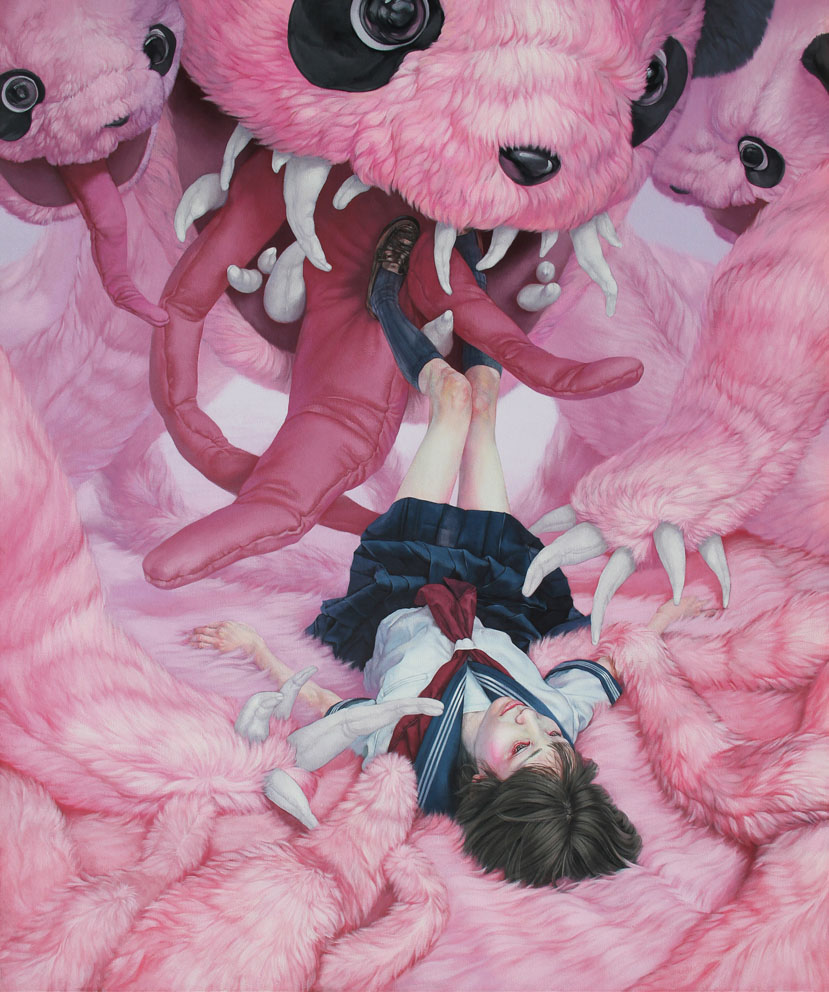 What inspired you to paint girls evolving into a pop universe with teddy bear monsters and other details that are both innocent and scary?
Ten years ago, the style of my artworks was very different from now. I used to paint deformed human figures looking like monsters. But I wanted to give a more realistic orientation to my paintings, so I went back to the work I did when I started being an artist. And at that time, I drew a lot of girls. Well, it is always fun to draw cute girls, isn't it? But I also wanted to express that contemporary girls can be evolving in a world of glitter, yet have darkness in their minds at the same time. My main characters are a symbol of cuteness and purity, but also of desire and anxiety. And I think the atmosphere of my paintings are illustrating the universe of today's girls in a more accurate way than I first expected.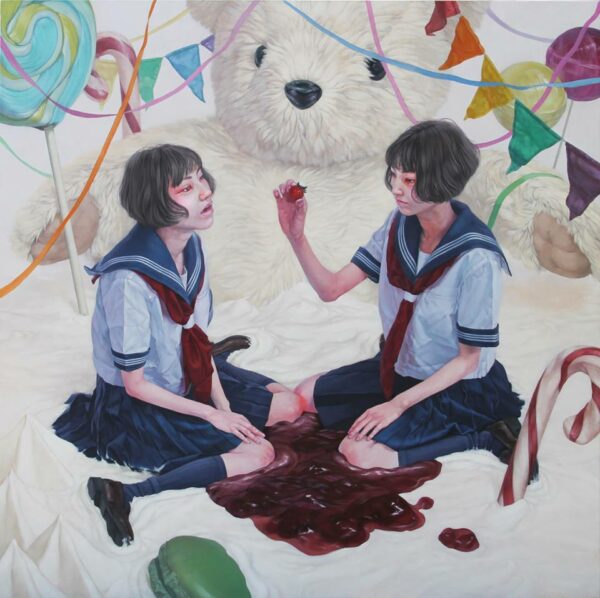 What is your background in arts and your main influences?
I grew up surrounded by manga and animation, like other kids of my generation. In Japan, they are not only made for children, but also express complicated human relationships and social problems. I was especially interested in works with dark themes. Undoubtedly, this subculture influenced me and you can see the impact of cartoonists, illustrators and film directors in my work more than the one of fine artists. But I now enjoy the work of contemporary and lowbrow artists such as Damien Hirst, Yayoi Kusama, Maurizio Cattelan, Chris Berens, Jeremy Geddes, James Jean as well as Natalie Shau…
How do you proceed to create your artworks? Which technique(s), tools and specific creative conditions are you using?
My technique of painting has nothing special. I like to use both wood panel and canvas, and mostly acrylic. I like to experiment with oil painting from time to time.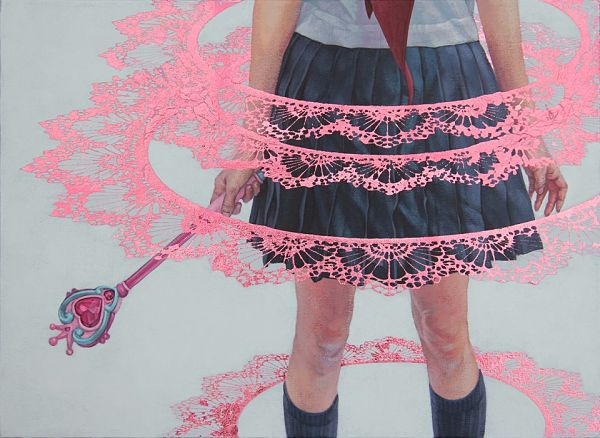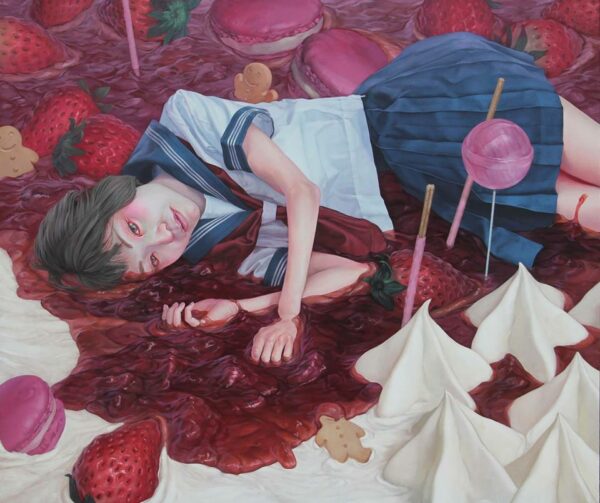 According to you, what are the difficulties and perks of being a contemporary artist and also a Japanese contemporary artist right now?
In Japan, it is difficult to be an artist; I mean to earn a living with your own art. It is not easy to find collectors. Compared to other countries, it is not customary to spend money on art.
I have the blessing of being an art teacher but, of course, sometimes, because of my profession, my freedom of expression can be restrained. I have to be careful not to express my persona
l feelings in paintings too much. I think that, as a contemporary artist in general, it is difficult to show feelings, emotions, and principles in the present age (and not only in my country).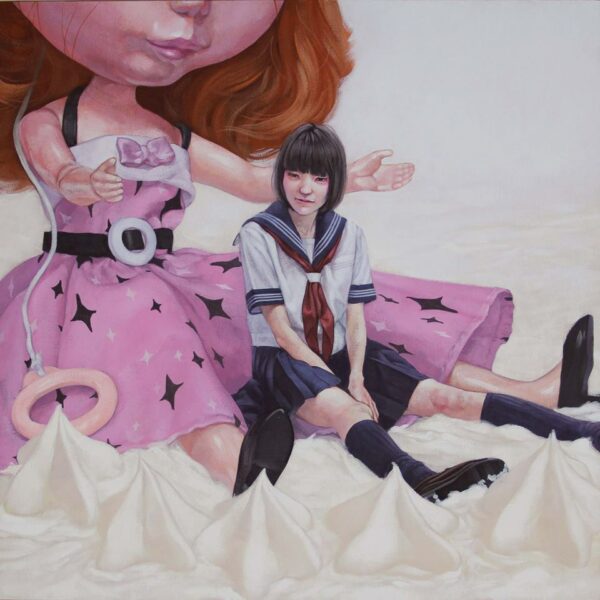 As a winner, what did you think of the Beautiful Bizarre Magazine art prize?
I've been following the magazine for years. I felt it was very close to the theme I wanted to express. As it is a reference in the world of lowbrow art, it is a real recognition and I am delighted to have won the 2nd place. I think that in the future, it will open new doors for my work in the international art scene.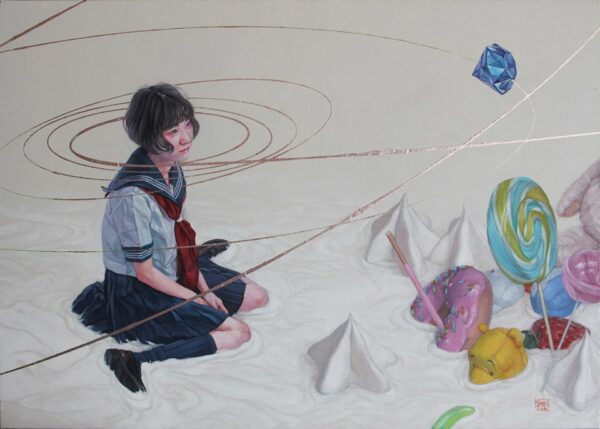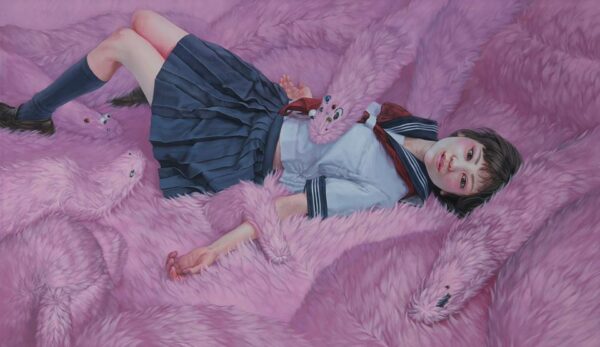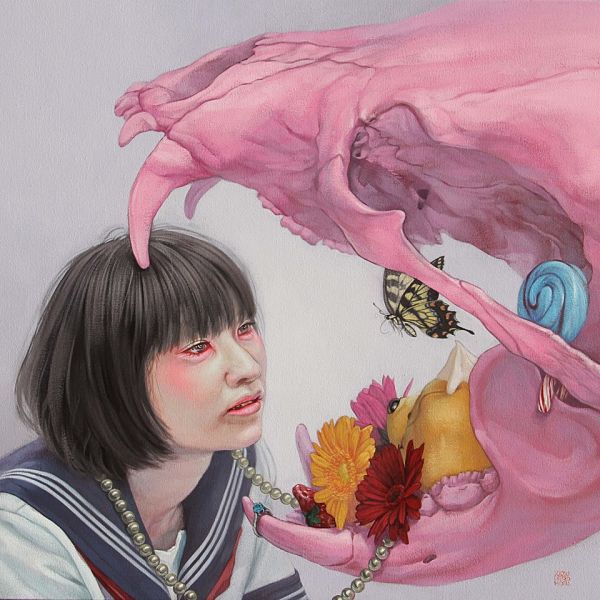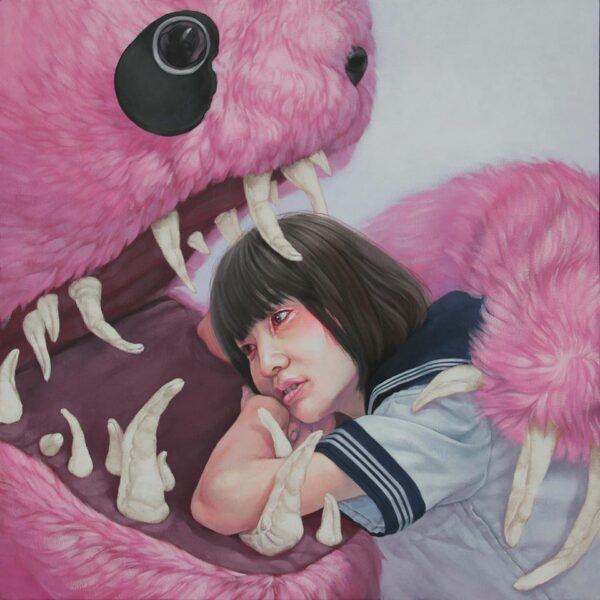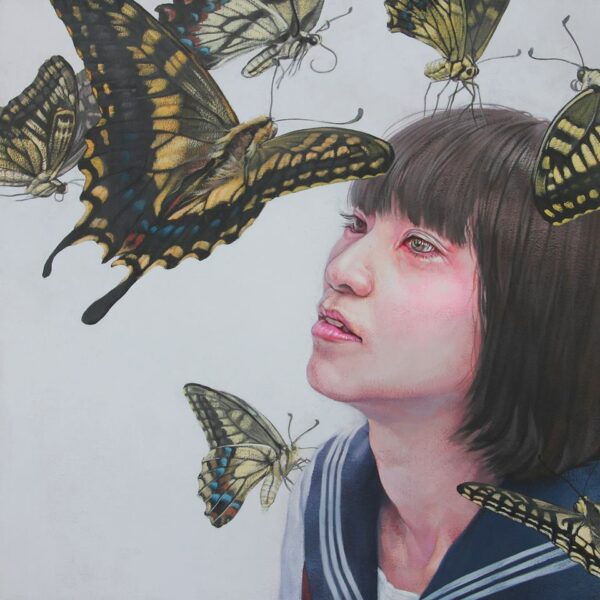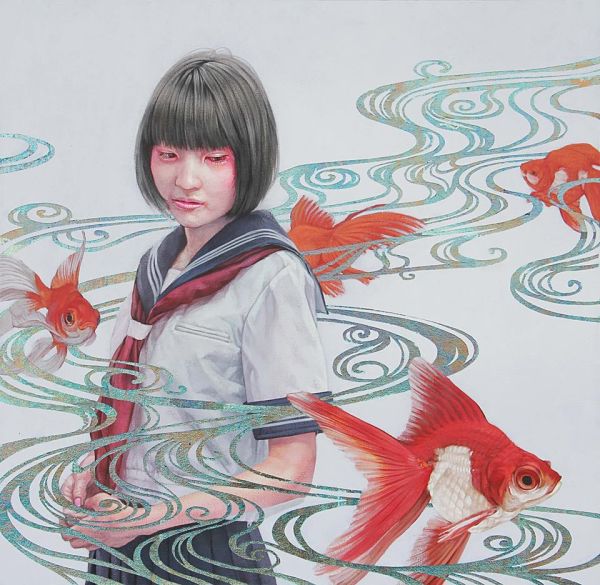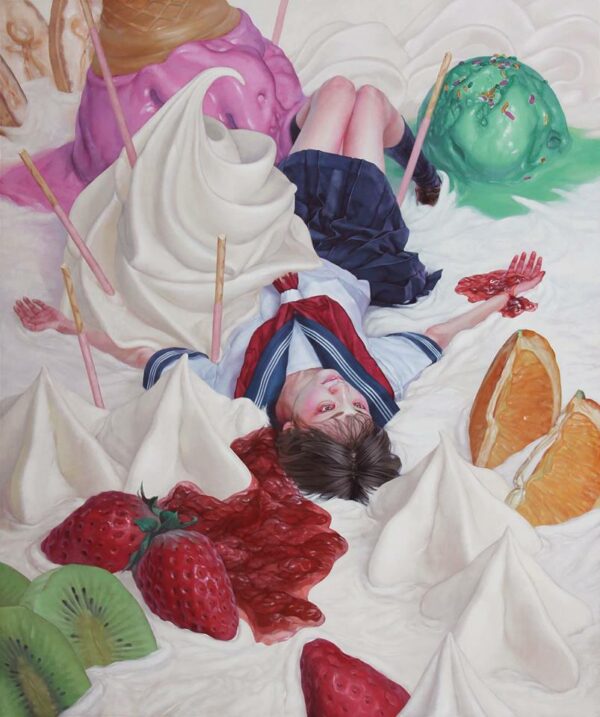 Republished from Beautiful Bizarre Magazine.