3rd Prize Winner: Adrienne Stein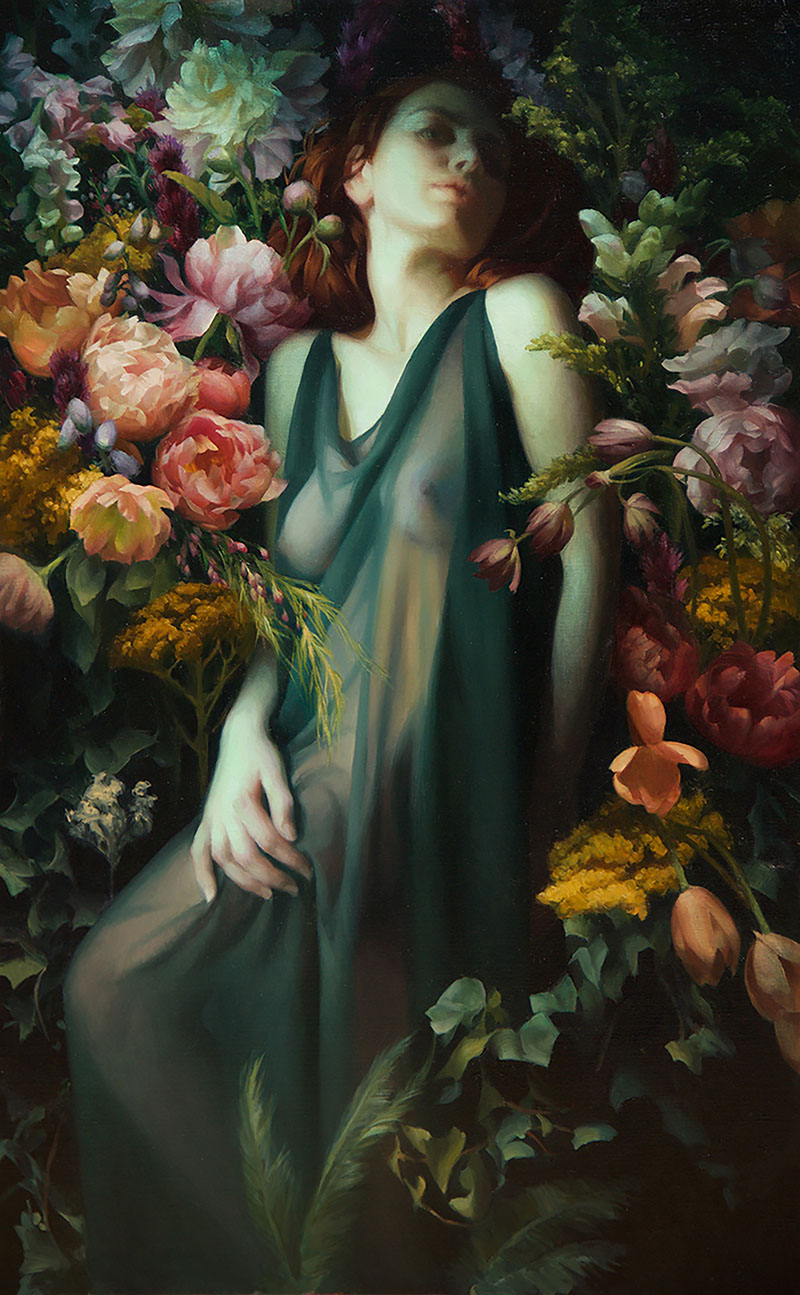 3rd Prize Winner
Adrienne Stein
"Persephone" [Oil on Canvas, 48 x 30″]
Adrienne Stein is an award winning artist living and working in Pennsylvania. She holds an MFA from Boston University and a BFA Magna Cum Laude, from Laguna College of Art & Design. Adrienne studied under many gifted and influential instructors throughout the United States, France, and Italy. Her work reanimates historical painting genres forming a bridge to the present with fresh insight and imagery. The worlds she paints are inhabited by figures, folklore, archetypes, and natural elements that are fueled by a sense of personal as well as universal myth. Close friends and family members are reinterpreted in lush and magical environments that form the nexus between reality and fantasy, expressed through an unconscious world of symbolic imagery. She has received numerous awards from organizations such as The Portrait Society of America, The Elizabeth Greenshields Foundation, and The Art Renewal Center. Her work is collected in the U.S. and abroad.
This painting depicts "Persephone" emerging from the darkness of the underworld, and into the light of the earth, and in her wake is the flora of Spring. She is between two worlds.
2nd Prize Winner: Victor Grasso

2nd Prize Winner
Victor Grasso
"A Darkness to End All Daybreaks" [Oil on Linen, 22 x 60″]
Victor Grasso grew up in Sea Isle City, NJ. He is a self-taught artist, who honed his talents by painting large-scale murals. In 2006, he started illustrating covers for Exit Zero Magazine, a local publishing company in Cape May. Grasso began exhibiting at SOMA Gallery in 2007. Grasso has also shown in exhibitions in New York City, Philadelphia, Los Angeles, Miami, San Francisco, Hawaii, Charleston, SC, Copenhagen, Denmark, at the Noyes Museum of Art, Oceanville, NJ, and Parlor Gallery in Asbury Park, N.J. Victor Grasso currently lives and works in North Cape May, NJ.
"A Darkness to End All Daybreaks": My daughter Gray holding a unicorn being led to its execution, represents the fleeting and desperate act of preserving the wonders of childhood.
1st Prize Winner: Steven Kenny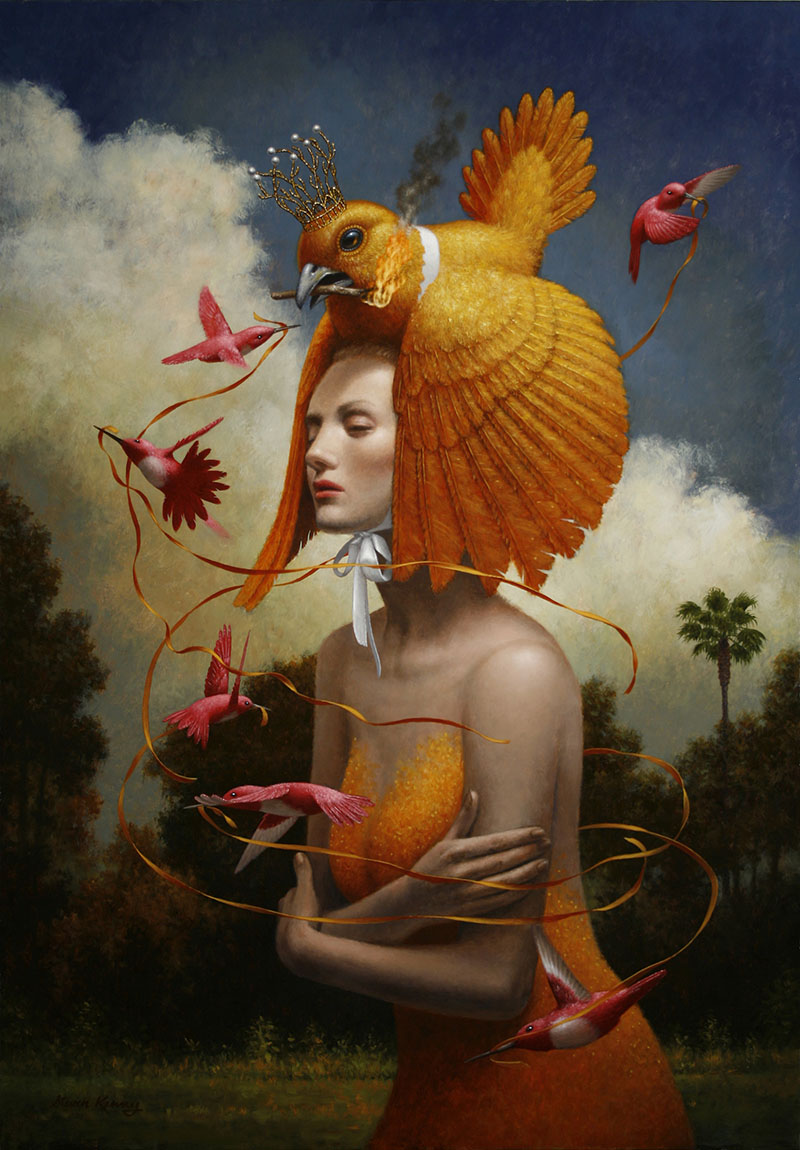 1st Prize Winner
Steven Kenny
"The Ribbons" [Oil on Canvas, 40 x 27″]
Steven Kenny was born in Peekskill, New York in 1962. He attended the Rhode Island School of Design, receiving a Bachelor of Fine Arts degree in 1984. His final year of art school was spent studying independently in Rome. This direct exposure to European art (especially the Baroque works of the Italian, Dutch and Flemish schools) had a significant effect on his painting style. First gaining international notoriety as a freelance commercial illustrator, Steven later devoted his full attention to the fine arts. His award-winning paintings are exhibited worldwide and are in private and museum collections in the United States and Europe. Kenny's home and studio are located in St Petersburg, FL.
"The Ribbons": A golden regal Promethean bird bestows the flaming torch of creativity. This eternal gift of inspiration alternately binds and frees the artist as she moves through the world.
Thank you & Acknowledgements
Congratulations to the 2019 Beautiful Bizarre Art Prize INPRNT Traditional Art Award Winners, Steven Kenny, Victor Grasso, and Adrienne Stein!
It was a real delight to immerse myself in the work of so many creatives from all corners of the globe working with such diverse traditional mediums. My sincere thanks to all the artists that entered – whom took the time to share their work and their artistic passion with us. Thank you also to all the people that voted for their favourite work for the Peoples Choice Award – we really value your opinion and were happy to provide our community with a voice in the Awards selection process. With over 7,5000 votes it was a tight race!
As Beautiful Bizarre Magazine's Editor-in-Chief I have the pleasure and honour of curating each issue of the magazine and curating our yearly exhibitions! My "inspiration" cup now runs over with amazing creatives to feature in the magazine, on the website and our socials over the coming months and years. I believe that contemporary representational art across all the various genres and mediums deserves more recognition from media, collectors and galleries, and I will continue to do what I can to help effect this change.  So thank you again for your interest in the Beautiful Bizarre Art Prize, I very much hope to see how your work has grown and developed in next year's Prize entries.
I would like to sincerely thank the 2019 Jury Panel, particularly the INPRNT Traditional Art Category Judge, Jeremy Geddes, who gave his time and expertise to the panel, the other Category Judges, Tom Bagshaw [Digital Art], Crystal Morey [Sculpture], Haris Nukem [Photography], representatives from our amazing sponsors INPRNT and Stocksy United, Directors of Haven Gallery Erica and Joseph, and of course to my partner Beautiful Bizarre Magazine's Co-Founder Richard Purssey. The judging process was incredibly difficult with so many exceptional entries, so thank you again!
Finally I would like to once again extend my deepest thanks to this year's major sponsor of the Traditional Art Award – INPRNT, whose primary motivation is to help artists spend more time doing what they love: creating. INPRNT make gallery quality art prints at their studio, handling all aspects of printmaking, shipping and customer service. The company is committed to helping artists flourish in a creative field, consistently offering the highest profits available compared to similar services. Sincere thanks also to our other sponsors [listed below]; it is through your generosity that the Award Winners will be able to enrich their practice.
Stay tuned the 1st Prize Winner of the 2019 Beautiful Bizarre Art Prize, Honourable Mentions, and People's Choice Winner will be announced tomorrow! ~ Danijela Krha Purssey, Co-Founder & Editor-in-Chief, Beautiful Bizarre Magazine.
INPRNT Traditional Art Award
The INPRNT Traditional Art Award 1st Prize Winner will receive:
2nd and 3rd Prize Winners will receive:
Timeline
21 Oct 2019: Sculpture Award Winners announced
22 Oct 2019: Stocksy United Photography Award Winners announced
23 Oct 2019: Digital Art Award Winners announced
24 Oct 2019: INPRNT Traditional Art Award Winners announced
25 Oct 2019: Beautiful Bizarre Art Prize 1st Prize Winner, Honourable Mentions & People's Choice Winners announced
14 Dec 2019: Awards presentation and opening reception of the Beautiful Bizarre curated exhibition 'Ritual' at Haven Gallery, Northport, New York USA. (1st Prize Winners will contribute an original work in keeping with the 'Ritual' theme)
12 Jan 2020: 'Ritual' exhibition at Haven Gallery closes.
SPONSORED BY
SUPPORTING SPONSOR