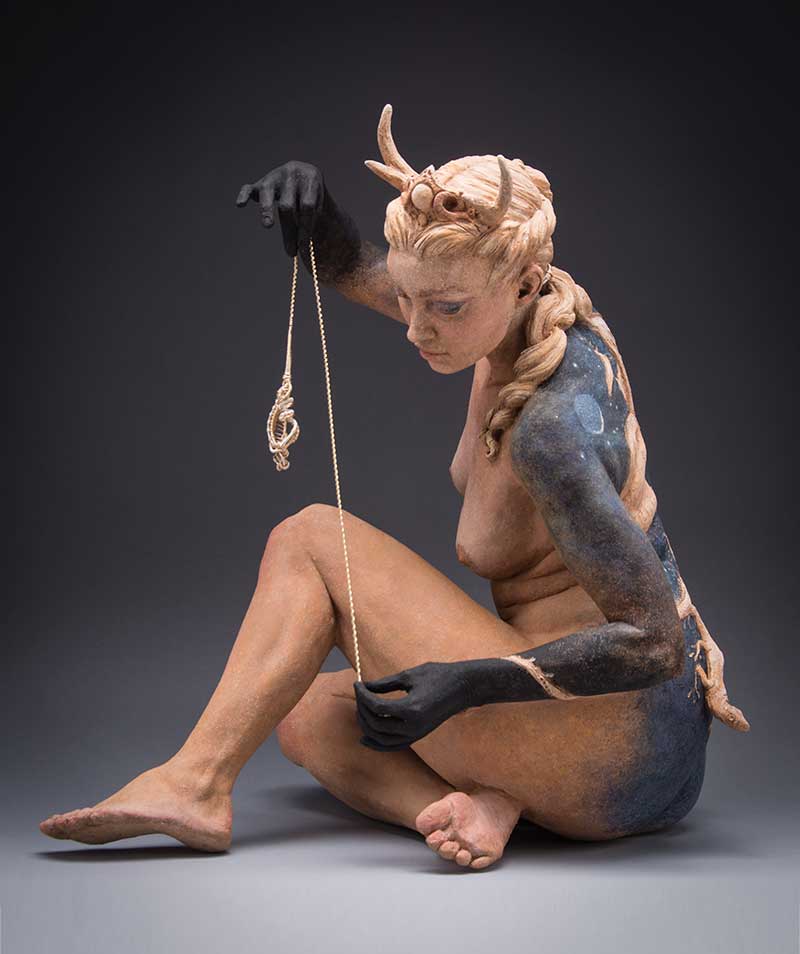 1st Prize Winner
Yasha Young Projects Sculpture Award
Beautiful Bizarre Art Prize 2020
Kristine & Colin Poole
Title:
Spinner of Dreams
Medium & Dimensions:
Fired clay, caseins, sterling silver, brass, 16 x 13 x 10″
Kristine & Colin Poole's work was published in Issue 31 of Beautiful Bizarre Magazine.
About the Artist
A dynamic husband-wife collaborative artistic team, Colin and Kristine Poole are known for their classically inspired contemporary realism. While they both maintain individual bodies of work, their collaborative clay and bronze sculptures have featured prominently in international exhibits and publications including The Wall Street Journal, Beautiful Bizarre, Spectrum, IBA, The ARC International Salon, Ceramics Monthly, Ceramics Ireland, among others. Collectively, they have been commissioned to create works for National Geographic, National Audubon, Spectrum, Denver Comic Con, Daimler-Benz, Lourdes Cathedral – France as well as numerous Fortune 500 companies. Their work spans small to life-size as well as monumental bronze public art works, most recently for the Carnegie Library in Michigan. They currently live and create in the foothills of the Sangre de Cristo mountains overlooking Santa Fe, surrounded by their menagerie of birds and beasts.