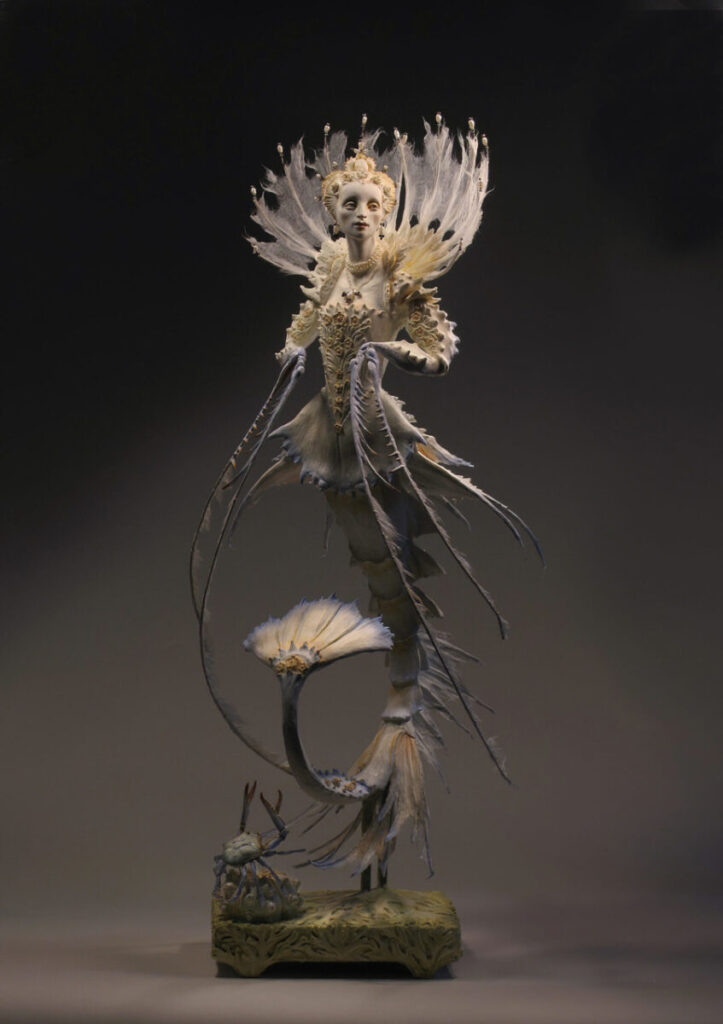 1st Prize Winner
Yasha Young Projects Sculpture Award
Beautiful Bizarre Art Prize 2023
Forest Rogers
Title:
"The Virgin Shrimp"
Medium & Dimensions:
Japanese air-dry clay, Kozo tissue, acrylic gel, paints & inks. Epoxy clay, brass rod & stainless-steel wire armature, 25 x 10 x 10 in
About the Artist
Forest Rogers, daughter of two painters, received an MFA in Costume Design from Carnegie-Mellon University in Pittsburgh. Forest has an eclectic history. She has painted nine-foot angels in a cathedral dome, and sculpted creatures that may dwell in your childhood toy box. She has collaborated with paleontologists on dinosaur prototypes, and with aquariums on sea life and poison dart frogs. In recent years she has focused entirely on her own art, exploring mythology, fairy and folktale, and the surreal. Her work resides in many private collections and appears in numerous books and magazines, including volumes of Spectrum Fantastic Art, Infected By Art, and Beautiful Bizarre Magazine.
"The Virgin Shrimp": The astonishing garments of Queen Elizabeth the First and her peers resemble paradoxical exoskeletons: denfence and encumbrance, dominance and confinement. Threat and seduction. Add a wander the realm of the Faerie Queene and a soupçon of Midsummer Night's dreaming, and the result, for me, was the Virgin Shrimp and her adoring Crab. Would the Queen have been amused? I am not sure.