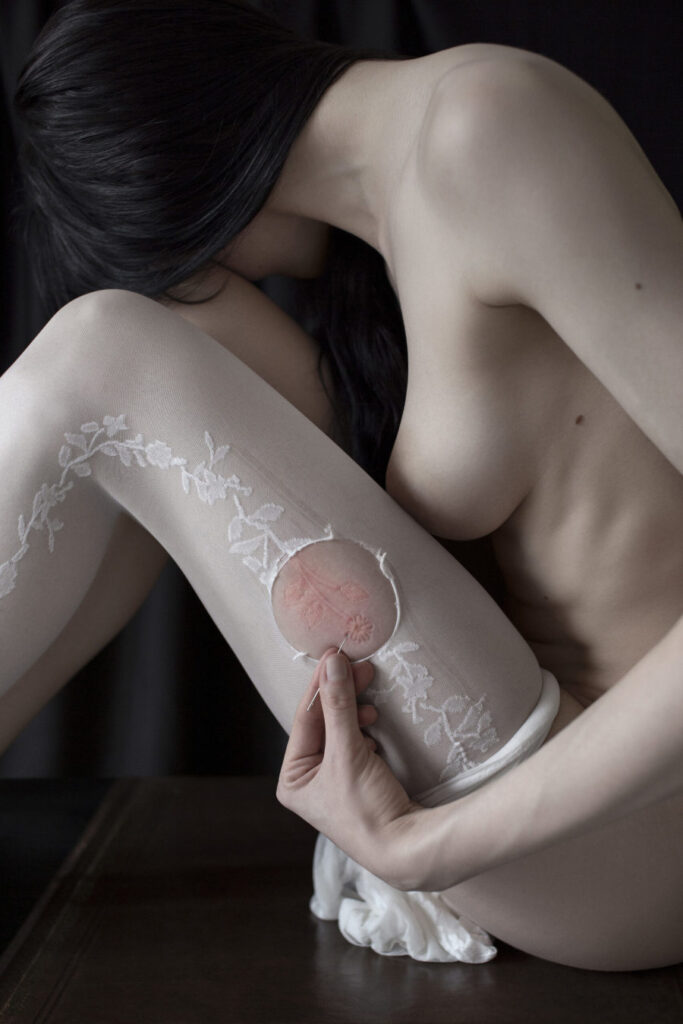 2nd Prize Winner
INPRNT Photography Award
Beautiful Bizarre Art Prize 2023
Iness Rychlik
Title:
"Beyond Repair"
Medium & Dimensions:
Canon 6D, 1.4 50mm, Self-portrait
About the Artist
Iness Rychlik is a Polish-born artist, based in the UK. Despite her severe myopia, Iness has been dedicated to visual storytelling since her early teens. Iness Rychlik is recognized for her dark surreal self-portraits; exploring themes of pain, solitude and vulnerability. Since she suffers from a chronic skin condition, Iness uses her own body as a canvas for artistic expression. She draws on her deeply personal experiences, often reflecting on growing up in a conservative and patriarchal society. The subtle elegance of Rychlik's compositions contrasts with an underlying aura of brutality. Her conceptual photographs provoke the viewer's imagination, rather than satisfy it. Featured by 'The British Journal of Photography', 'Cultura Inquieta', 'Beautiful Bizarre Magazine', 'L'Officiel Italia', BBC Scotland.
"Beyond Repair": Iness suffers from a hyper-sensitive skin condition. As a teenager, she would often attempt to cover it up; and resented being asked if she had accidentally burnt herself. Throughout the years, Iness have learnt to see her skin as a canvas of expression, rather than an ugly inconvenience that should be kept hidden. Photography has been instrumental in her process of overcoming both physical and psychological difficulties.