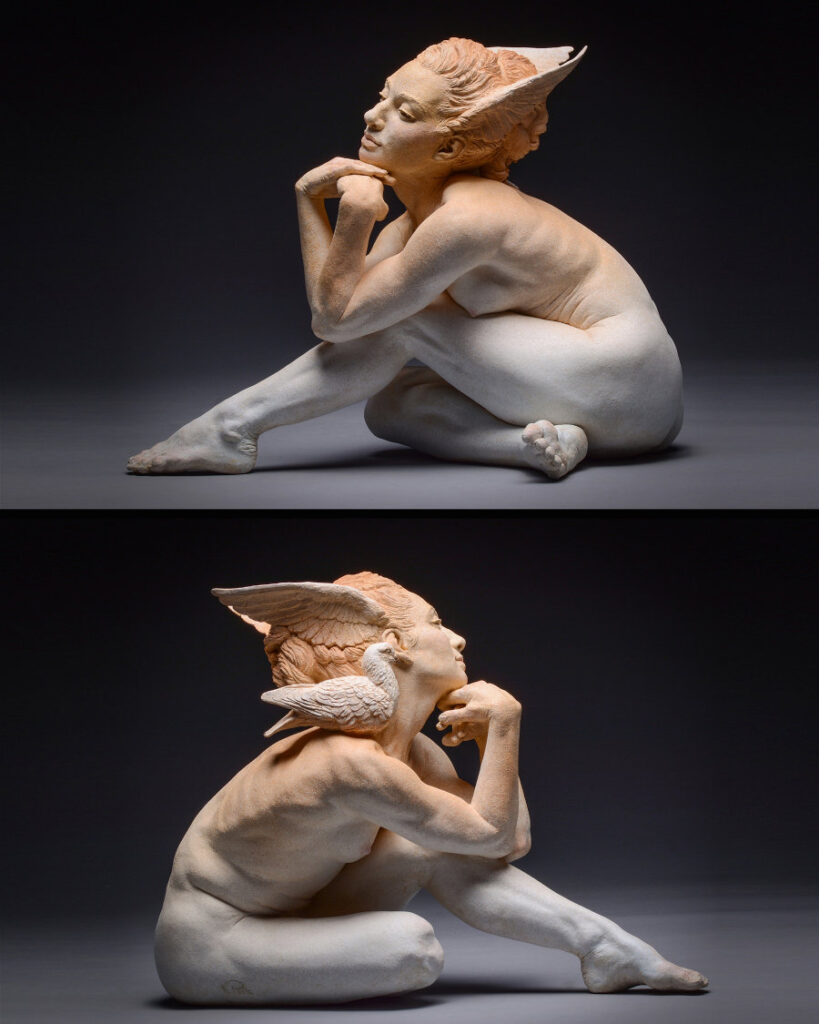 2nd Prize Winners
Yasha Young Projects Sculpture Award
Beautiful Bizarre Art Prize 2023
Kristine & Colin Poole
Title:
"Dove Dreams of Flying"
Medium & Dimensions:
Fired clay, acrylic, 18 x 24 x 15 in
About the Artists
Kristine and Colin Poole's classically inspired contemporary realist sculptures have been widely recognized and collected. Their collaborations bridge many genres, featuring prominently in international publications including Beautiful Bizarre Magazine, The Wall Street Journal, 500 Figures in Clay, Ceramics Monthly, Ceramics Ireland, Masters of Contemporary Fine Art and The ARC International Salon. While maintaining their individual bodies of work, the Pooles' commission projects include public art monuments for the Michigan Carnegie Library and Arlington County, Virginia. Their corporate client commissions include The National Audubon Society, Nature Conservancy, National Geographic, US Mint, USPS, PBS, Coca Cola, Sony, Lourdes Cathedral France and numerous other Fortune 500 companies. Recognizing the potential for the arts to enlighten and shift perspectives, the Pooles have long been dedicated proponents of encouraging creativity in others. They have judged many contests, are monthly contributors to the art blog, Muddy Colors, and donate their time to give demonstrations and lectures on art and business. They currently live and create in the Sangre de Cristo mountains surrounded by their menagerie of birds and beasts.
"Dove Dreams of Flying": This sculpture was inspired by the birds in our aviary and how much our pet friends enrich our lives. The bird is a portrait of Zozo, our favorite Damascene pigeon and the young woman is named after Dove, our first bird. Here, perhaps Zozo shares a story about what it's like to fly and Dove begins to daydream. Or it may be that the bird represents our inner self, when we launch off into a new direction in life, whispering in our ear, "You can do it! You'll find your wings… I promise."