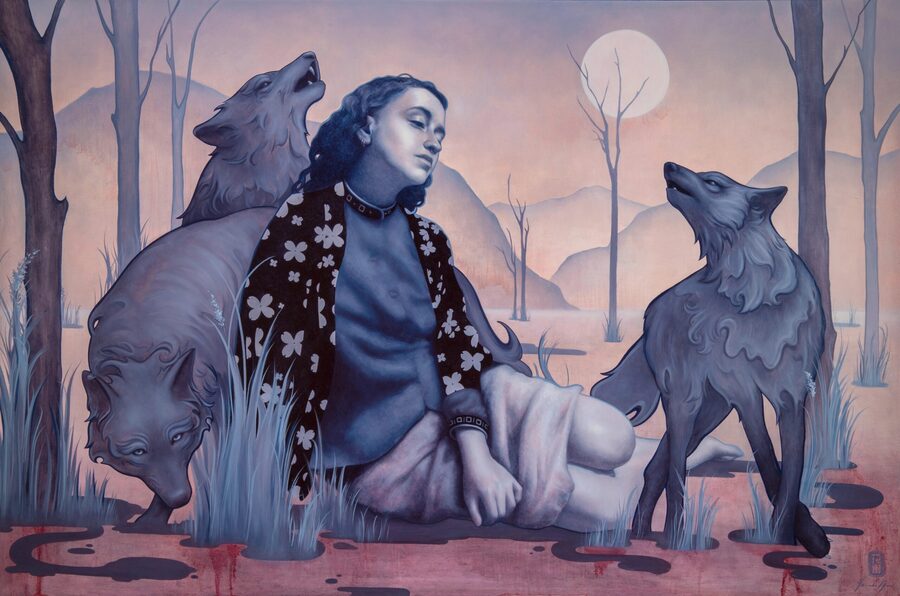 3rd Prize Winner
Beautiful Bizarre Magazine Founders' Emerging Artist Award
Beautiful Bizarre Art Prize 2023
Hannah Tjia
Title:
"Wolf Song"
Medium & Dimensions:
Oil on wood, 24 x 36 inches
About the Artist
Hannah Tjia, born in Southern California in 2001, is a painter and draftswoman who combines figurative studio painting with illustration and decorative design inspired by her love of folklore and fairytales. Her work explores otherworldly creatures and motifs representative of her imagination and perception of reality. She works in oil paint, charcoal, graphite, watercolour, and gouache and enjoys experimenting with and combining these mediums. Currently residing in Irvine, California, Hannah received a BFA in Drawing and Painting at the Laguna College of Art and Design in the spring of 2023.
"Wolf Song": based on memories from when I was little, about Japanese wood block prints, video games, manga, and anime. While I never played video games as a child, I distinctly remember the blue-stained, melancholic aesthetics of a certain scene from a friend's game. Wolf Song is my way of solidifying those images in my head that I could never forget. After painting this work, I also wrote a poem that captures in words the feelings of loneliness and finding friendship that the image personifies.