We are proud to announce the 2019 Jury Panel comprising influential figures in the art world, including curators, artists and corporate arts champions. Including Beautiful Bizarre Magazine Co-Founders Danijela Krha Purssey & Richard Purssey, Directors of Haven Gallery Erica Berkowitz & Joseph Weinreb, representatives from our major partners, and five in-demand contemporary artists Jeremy Geddes, Tom Bagshaw, Crystal Morey, Haris Nukem and Marie Larkin, each Jury member excels in their field of expertise and is making waves around the world with their unique work.
Knowing how to promote [work as an artist] is also very difficult, so this is so helpful to have Beautiful Bizarre Magazine beside you and it is very flattering to see that your work is recognized by specialists in the profession.

I also had many messages from people on the networks who discovered my art through this contest; it's great for the mind to have the audience's impressions, it's one more motivation to keep going. – Stan Manoukian, 2018 Beautiful Bizarre Finalist
Entering the Beautiful Bizarre Art Prize is the perfect opportunity for artists to get their work in front of both the Editor-in-Chief of Beautiful Bizarre Magazine and the Directors of successful commercial Haven Gallery, receive amazing cash and product prizes, get global exposure for their work, and connect with the 50+ artists participating in the Beautiful Bizarre Magazine curated exhibition 'Ritual'.
Jury Panel

Traditional Art Category Judge
JEREMY GEDDES // Artist
Website | Facebook | Instagram
Australian artist Jeremy Geddes studied painting at the Victorian College of the Arts and began working full time as a painter in 2003. He's most well known for his surreal paintings of cosmonauts and people floating, falling, colliding and drifting in empty landscapes.
Jeremy was born in Wellington, New Zealand, and now lives in Melbourne, Australia with his partner and whippet.

Digital Art Category Judge
TOM BAGSHAW // Artist
Website | Facebook | Instagram | Twitter | Tumblr
Based in the Georgian city of Bath, England, Tom Bagshaw has developed a highly rendered digital painting style through which he explores portraiture and figurative themes of fantasy, beauty and mysticism. While his work deals with imaginative content, it also aims for a strong level of realism in its presentation. Feminine beauty and portraiture play a central role in his work, but the women he depicts are never frail damsels in distress. More often than not they are strong, intriguing characters, with an air of mystery to them.
His digital paintings have been shown in galleries around the world, including Corey Helford Gallery – L.A, Roq La Rue – Seattle, Spoke Art Gallery – SF, Copro Gallery – CA, Arch Enemy Arts – PA, Last Rites and Haven Gallery – NYC, Strychnin Gallery – Berlin, Vanilla Gallery – Japan, and The Unit London and Atomica in the U.K..
Sculpture Category Judge
CRYSTAL MOREY // Artist
Website | Facebook | Instagram | Twitter
Crystal Morey is an American artist, sculpting through the historical medium of porcelain.
Morey explores ideas of contemporary environmental issues and the ways humans are impacting and changing the natural world. Through the delicacy of porcelain, she investigates these fragile connections and intricate dependencies, creating hybrid creatures of plant, animal and human elements.
With interests in art historical traditions of realism, craftsmanship, and historical porcelain, Morey is looking to incorporate these customs of beauty, while also building a contemporary environmental narrative of today. A story that reminds us of the importance of our natural spaces, and that all living creatures are connected through the thread of time and a fragile world.
Morey received her BFA in Ceramic Sculpture from the California College of the Arts and her MFA in Spatial Art from San Jose State University. She continues her studies through artists residencies and expansive interests in art history and museum research. Currently living in Oakland California, she maintains an active studio practice, creating work which is shown around the world..
Photography Category Judge
HARIS NUKEM // Photographer
Website | Facebook | Instagram
Haris Nukem's work is a passionate study of the human spirit in the 21st century. Using vividly imaginative scenes, the London based photographer portrays fictional allegories set in the modern world. Building visual narratives around human nature and experience, they unveil a beauty in qualities from discipline to excess, to enlightenment and even indoctrination. Forced to reframe our ideas of 'righteousness', Nukem's works conjure a deeper thinking. Elaborately constructed, the pieces boast rich symbolism and an immersive quality.
The result is a provocative body of work — characterised by its opulence in colour, and bright, incandescent hues. Fusing lavish aesthetics with a socially conscious, urban art sensibility, his work embodies contemporary-classical imagery.
All Mediums Judge
MARIE LARKIN // Artist
Website | Facebook | Instagram
Marie Larkin is a prominent Australian Pop Surrealist. Her art embodies an undeniably feminine oeuvre, meticulous execution and attention to detail. Her richly coloured, painted and drawn alternate worlds, are inhabited by her signature women who imbue the works with narrative and emotional content. Women of strength and character, whose undeniable feminine force, have become Marie's trademark.
Early works in painting, drawing and sculpture were inspired by fairytale and nursery rhyme narratives, pop culture and beauty but as Marie's work has matured and developed this has distilled into an art that is underpinned by explorations of the female persona. Marie's work over the past two years often attempts to show that elements of a goddess archetype are present in the everyday feminine. She seeks to help women find this within the everyday and has found that it resonates strongly with both men and women.
Beautiful Bizarre Magazine
DANIJELA KRHA PURSSEY // Editor-in-Chief & Co-Founder
Beautiful Bizarre Magazine
Website | Facebook | Instagram | Twitter | Tumblr | Pinterest
Danijela Krha Purssey is an entrepreneur, and the Editor-in-Chief and Co-Founder of Australian based international contemporary art magazine, Beautiful Bizarre Magazine.
She is deeply passionate and committed to her vision to help shift the paradigm in the global contemporary arts industry regarding what is defined and accepted as contemporary art.
Danijela has created a carefully curated, unique contemporary arts experience via all the Beautiful Bizarre Magazine touch points that inspires and champions emerging and mid-career creatives both locally and around the world. Beautiful Bizarre Magazine has inspired creatives to pursue a life and career in the arts and helped artists' careers grow via Beautiful Bizarre Magazine's exposure of their work.
Danijela founded Beautiful Bizarre Magazine in 2013 with her husband, Richard Purssey. In the 5 years since the launch of Beautiful Bizarre Magazine she has released 23 issues, published over 2,000 web articles, developed and launched our interactive digital magazine, curated 7 exhibitions in 3 countries, and shared the work of countless creatives from all corners of the globe. Beautiful Bizarre Magazine has become not only an influential player in the contemporary art scene, but more importantly a voice, a tribe and platform for creatives whose work doesn't always fit neatly into the traditional fine art "box".
Danijela has forged global connections with artists, collectors, gallery owners and their communities to further her vision for the new contemporary art scene and to help galleries and creatives thrive. The Beautiful Bizarre Magazine social media platforms have grown to over 900,000 followers.
As a champion of Australian art, Danijela has started an Australian Creatives Collective Instagram page. She feels strongly that her local creatives need and deserve more exposure, more support, inspiration and mentoring. Danijela plans to use her own and Beautiful Bizarre Magazine's influence and connections to more deeply support her local arts scene.
In late 2016 Danijela was awarded the prestigious AMP Foundation 'Tomorrow Makers' Award, and grant funding to expand Beautiful Bizarre Magazine.
Beautiful Bizarre Magazine
RICHARD PURSSEY // Technical Director & Co-Founder
Beautiful Bizarre Magazine
Website | Facebook | Instagram | Twitter | Tumblr | Pinterest
Richard Purssey is an IT consultant who is also a lifelong collector and appreciator of modern art. During the life of Beautiful Bizarre Magazine Richard has interviewed some of the finest contemporary realist artists from around the world, and been intimately involved in the creation of Beautiful Bizarre as a leading voice in the world of figurative art in all mediums. He has also been closely involved with the fine arts during his time as CIO of one of Australia's most prestigious public galleries, the Art Gallery of New South Wales.
Haven Gallery
ERICA BERKOWITZ // Director
Haven Gallery
Website | Facebook | Instagram | Twitter
Erica Berkowitz has her Bachelor's Degree in Art History from Stony Brook University and her Master's Degree in Contemporary Art from Sotheby's Institute of Art. She has worked locally on Long Island at the Nassau County Museum of Art and the Islip Art Museum. Most recently, she left her position as Director of Last Rites Gallery in NYC for nearly three years to open up her own gallery space. Prior to Directing at Last Rites, she was the Director of Press and Publications at Forum Gallery. She has been working in the art world for over eight years and is also a self published author. Along with her husband, she has been collecting art for nearly a decade.
Haven Gallery
JOSEPH WEINREB // Director
Haven Gallery
Website | Facebook | Instagram | Twitter
Joseph Weinreb has his Bachelor's Degree in Graphic Design from NYIT. His career has encompassed graphic and web design work for a multitude of clients. He is an aspiring painter and his passions lies in creating and working with other artists.

Corporate Champion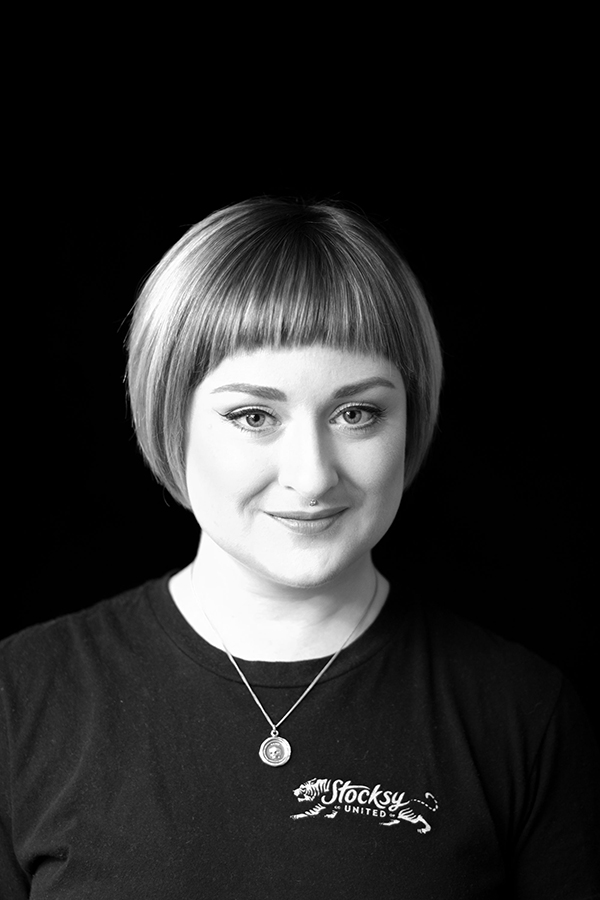 JOSHUA ZIKA // Founder
INPRNT
Website | Facebook | Instagram | Twitter | Tumblr
Joshua Zika is an entrepreneur and the founder of INPRNT. Established in 2006, INPRNT offers fine art printing services for artists around the world.
Joshua began assisting his colleagues with printing and distribution of their work after attending Ringling College of Art and Design. Over the years, he has grown what started as a passionate hobby into a worldwide service. Joshua and the team at INPRNT continue to have that passion for helping artists, working with thousands of talented creatives to deliver gallery quality prints to their customers. INPRNT allows artists to focus on what they love: creating.
When he's not working, Joshua enjoys playing guitar and dabbling in photography. He lives in Orlando, Florida, with his wife, Mary Zika, and their French Bulldog.
Corporate Champion
BRY WILIAMS // Designer
Stocksy United
Website | Facebook | Instagram | Twitter
Bry graduated from Vancouver's Emily Carr University where she studied Fine Art and Design. She dabbled in various creative fields before discovering where her primary passion lies—graphic design. In her role as Graphic Designer at Stocksy United she works across multi-disciplinary teams to champion the work of thousands of photographers and cinematographers.
Bry has a fondness for offbeat contemporary art that challenges traditional norms, so naturally she has followed Beautiful Bizarre Magazine since its early days. She couldn't be more excited to be a part of the judging panel for the Beautiful Bizarre Art Prize!
Artwork by: 2018 Finalist, Kathrin Longhurst