2023 Beautiful Bizarre Art Prize: Beautiful Bizarre Magazine Founders' Emerging Artist Award Winners Announced!
As the Founders of Beautiful Bizarre Magazine we felt it was important for us personally to support this new Award in its first year. As this year's Emerging Artist Award sponsors, we believe that emerging artists deserve validation, recognition, and exposure to grow and develop their practice. This new Award allows emerging artists to have their own platform rather than competing with more experienced artists – thus leveling the playing field.

DANIJELA KRHA PURSSEY,& RICHARD PURSSEY, CO-FOUNDERS, BEAUTIFUL BIZARRE MAGAZINE
Thank you & Acknowledgements.
Once again, we would like to thank all of the artists that entered. It was such a pleasure to immerse ourselves in the work of so many creatives, working across varied mediums and styles, and reading their inspirational stories.
Danijela Krha Purssey, Beautiful Bizarre Magazine's Editor-in-Chief has the pleasure, and the honour of curating each issue of the magazine and our exhibitions. The incredible Art Prize entries that were received will continue to give her a plethora of new ideas and choices to pursue for future projects. So thank you again for your interest in the Beautiful Bizarre Art Prize, we very much hope to see how your work has grown and developed in next year's Prize.
We would also like to sincerely thank the 2023 Jury Panel: Laura H. Rubin (Digital Art juror), Rebecca Leveille (Traditional Art juror), Ellen Jewett (Sculpture juror), and Ellen Sheidlin (Photography juror), and the Directors of Haven Gallery, Erica Berkowitz & Joseph Weinreb.
Our deep gratitude goes to our amazing Gold Partners: INPRNT, RAYMAR, Yasha Young Projects, and iCanvas for their ongoing support of the Beautiful Bizarre Art Prize, and the life changing opportunities it brings to artists from around the world. Thank you also to the Beautiful Bizarre team for their dedication and hard work on behalf of the Prize all-year round.
Our sincere thanks to this year's Emerging Artist Award sponsors listed below. It is through their generosity that the Emerging Artist Award Winners will be able to enrich their practice.
Beautiful Bizarre Magazine Founders' Emerging Artist Award
The Beautiful Bizarre Magazine Founders' Emerging Artist Award 1st prize winner will receive:
$1,000 USD cash, generously donated by the Founders of Beautiful Bizarre Magazine, Danijela Krha Purssey and Richard Purssey. Beautiful Bizarre Magazine is a leading publication for contemporary art lovers, featuring in-depth interviews and profiles of leading and emerging visual and wearable artists from around the world. Each issue offers informative, inspiring, and thought-provoking content, perfect for artists, artisan fashion designers, collectors, curators, galleries, and anyone looking to stay up-to-date on the latest trends in the contemporary art world.
A beautiful, specially commissioned glass art award trophy.
The opportunity to exhibit in the prestigious Beautiful Bizarre Magazine exhibition at Haven Gallery, in New York, USA, alongside 80+ of the world's best contemporary representational artists.
Exposure to a successful commercial gallery's collector base with the opportunity to sell their work.
One free "Audit ONLY" spot onto any SmArt School class, running at the time that the winner is announced. This opportunity allows a student to log in and watch the relevant classes for the semester (September – December 2023). Note: this "Audit ONLY" spot allows the student to view all classes without participating with questions or feedback.
12 month social media advertising package (Beautiful Bizarre Magazine: 1 million+ followers across all social platforms).
Winning artwork printed in the December 2023 issue of Beautiful Bizarre Magazine, as part of the Beautiful Bizarre Art Prize editorial.
Exclusive in-depth interview published on the Beautiful Bizarre Art Prize and Beautiful Bizarre Magazine websites + shared on social media.
Profile listing [including artwork gallery] on the Beautiful Bizarre Magazine Artist Directory for 12 months. The go-to platform for artists, curators and collectors to discover exceptional artists and explore their work.
A coupon to enjoy Linktree PRO for free for 12 months.
A year's worth of inspiration – a print subscription to Beautiful Bizarre Magazine.
2nd prize winner will receive:
3rd prize winner will receive:
Congratulations to the 2023 Beautiful Bizarre Magazine Founders' Emerging Artist Award Winners: Sarah Lee, Karin Hauck, and Hannah Tjia!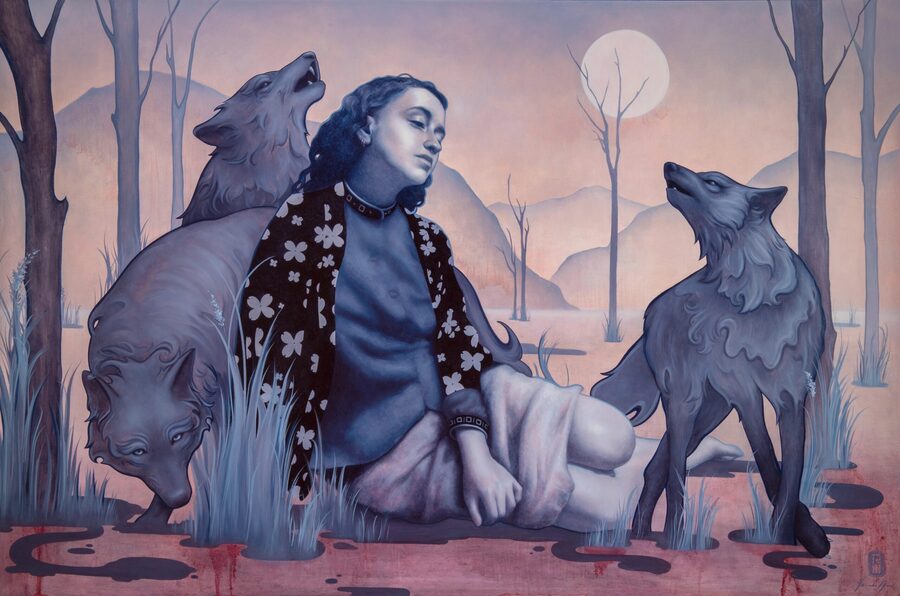 3rd Prize
Hannah Tjia
Born and Currently Resides: USA.
"Wolf Song". Traditional Art: Oil on wood, 24 x 36 inches
Hannah Tjia, born in Southern California in 2001, is a painter and draftswoman who combines figurative studio painting with illustration and decorative design inspired by her love of folklore and fairytales. Her work explores otherworldly creatures and motifs representative of her imagination and perception of reality. She works in oil paint, charcoal, graphite, watercolour, and gouache and enjoys experimenting with and combining these mediums. Currently residing in Irvine, California, Hannah received a BFA in Drawing and Painting at the Laguna College of Art and Design in the spring of 2023.
"Wolf Song": based on memories from when I was little, about Japanese wood block prints, video games, manga, and anime. While I never played video games as a child, I distinctly remember the blue-stained, melancholic aesthetics of a certain scene from a friend's game. Wolf Song is my way of solidifying those images in my head that I could never forget. After painting this work, I also wrote a poem that captures in words the feelings of loneliness and finding friendship that the image personifies.
2nd Prize
Karin Hauck
Born and Currently Resides: Germany.
"Plastic Venus". Traditional Art: Oil on canvas, 104 x 64 cm
Born in Leipzig, Karin Hauck has lived in Bremen since 1984. The focus of her interest was always the human being and his consciousness, in thinking, feeling, acting and being. The desire arose to express their knowledge and experiences through paintings. She started to realize this with realistic oil painting in 2015.
"Plastic Venus": Inspired by W.A. Bouguerau. I imagined how his figure in the Evening Mood would look in our present time.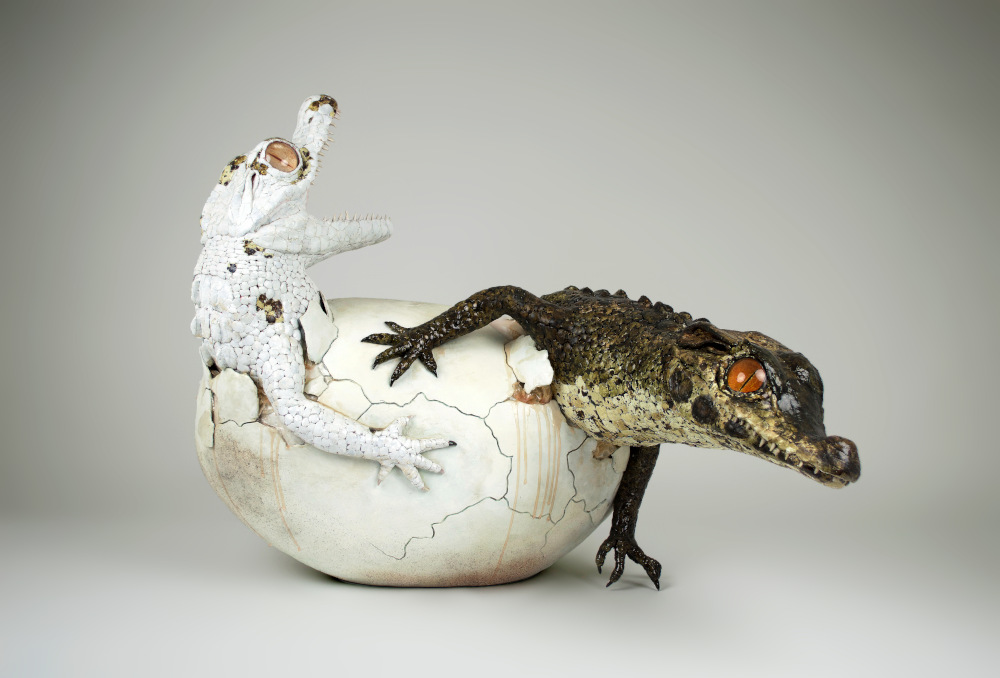 1st Prize
Sarah Lee
Born and Currently Resides: USA.
"Yin and Yang". Sculpture: Quail eggshells, clay, resin, fiberglass, plastic, 28 x 29 x 36 inches
Sarah Lee creates sculptures of animals that reveal fragility, vulnerability, insecurity, human emotions, awkwardness, odd self-inflicting behaviors, adaptation and survival. Eggshells are fragile empty houses that are abandoned after birth; they become lifeless and no longer serve a purpose. Sarah uses eggshells in her art to create, to up cycle, and to give another life to the material used. Eggshells and the scales of reptiles are similar in that they both provide a thin layer of protection, acting as a shield, but a vulnerable and fragile one. She crossbreeds Charles Darwin's theory of "Survival of the Fittest" in order to enforce the power of adaptation and survival, to amplify these emotions that are underrepresented.
"Yin and Yang": A concept of balance, negative and positive, dark and the light. I sculpted these twins to show two opposing powerful forces may actually be complementary, interconnected, and interdependent, and must coexist to survive.