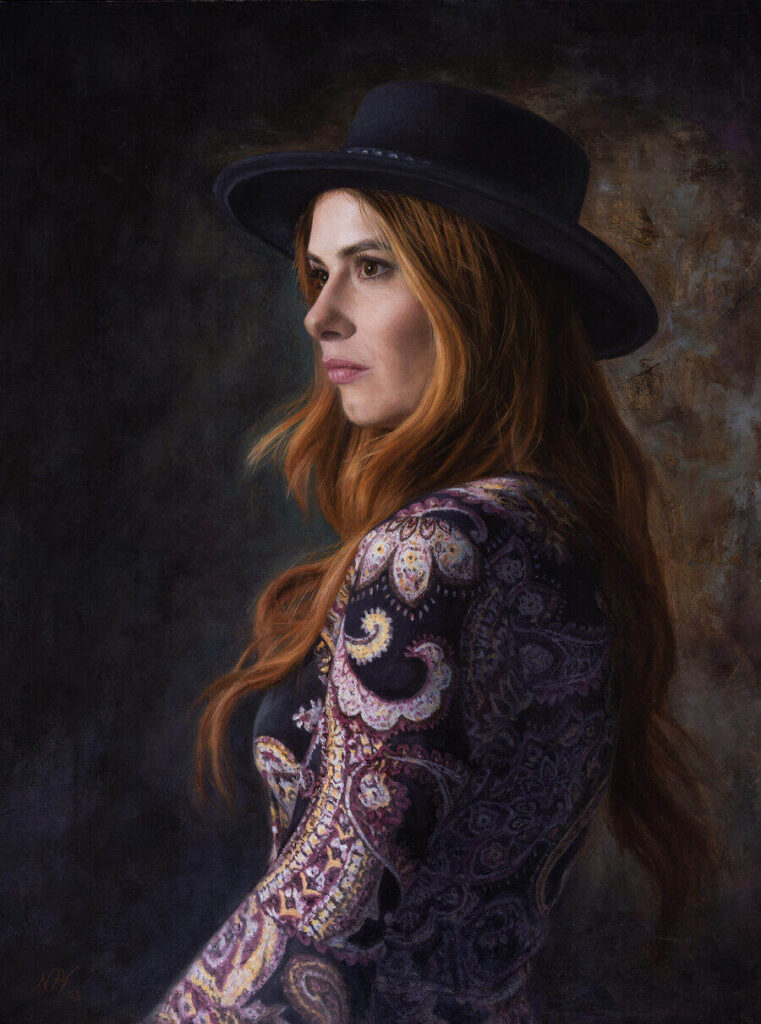 Honourable Mention
Beautiful Bizarre Art Prize 2023
Awarded by RAYMAR
Nanci France-Vaz
Title:
"Nocturnal"
Medium & Dimensions:
Oil on Linen ACM, 24″ x -28″
About the Artist
Nanci France-Vaz is a modern renaissance artist that uses allegorical symbolism to create visual stories on canvas. She draws inspiration from the Pre-Raphaelite and Naturalist periods of art, poetry, and classic literature, and film. She combines her strong foundation in life painting with imaginative backgrounds fusing classical with contemporary realism. Nanci has exhibited at Sotheby's NYC for ARC Salon, the Dacia Gallery NYC, Wausau Museum of Contemporary Art, Museum of Modern European Art for ModPortrait & Figurativas, Butler Museum Of American Art, Abend Gallery, Principle Gallery, Lovetts Gallery, Eisele Gallery, National Arts Club NYC, and Salmagundi Club NYC. She has had 3 solo shows. Her solo exhibit at DaciaGallery, NYC will be in Nov 1, 2023, Nanci France-Vaz has won of many notable awards nationally. She is the recipient of the ARC Purchase Award in Imaginative Realism for the 16th Annual ARC Salon, Best in Show Wausau Museum, 2nd Place Southwest Art Artistic Excellence, Len G Everett Memorial Award, Joseph Hartley Memorial Award, John Collins Award, Colonel George J Morales Award, PSOA 3rd Place International Artists People & Figures 2021
"Nocturnal": In midnight hour the Nocturnal is born. This is a self-portrait of memories in Nanci's life via the model. It was a night back in time when her studio was located in LIC, NY, and she lived on the UWS. Bleeker St inspired her. The music scene inspired me to create. The expression on the model's face is intense watching the band play. Dark inside, but strong light surrounds the face from stage lights. An idea is brewing, red hair flows, swirling patterns on dress & hair are a rhythmic loop composition.