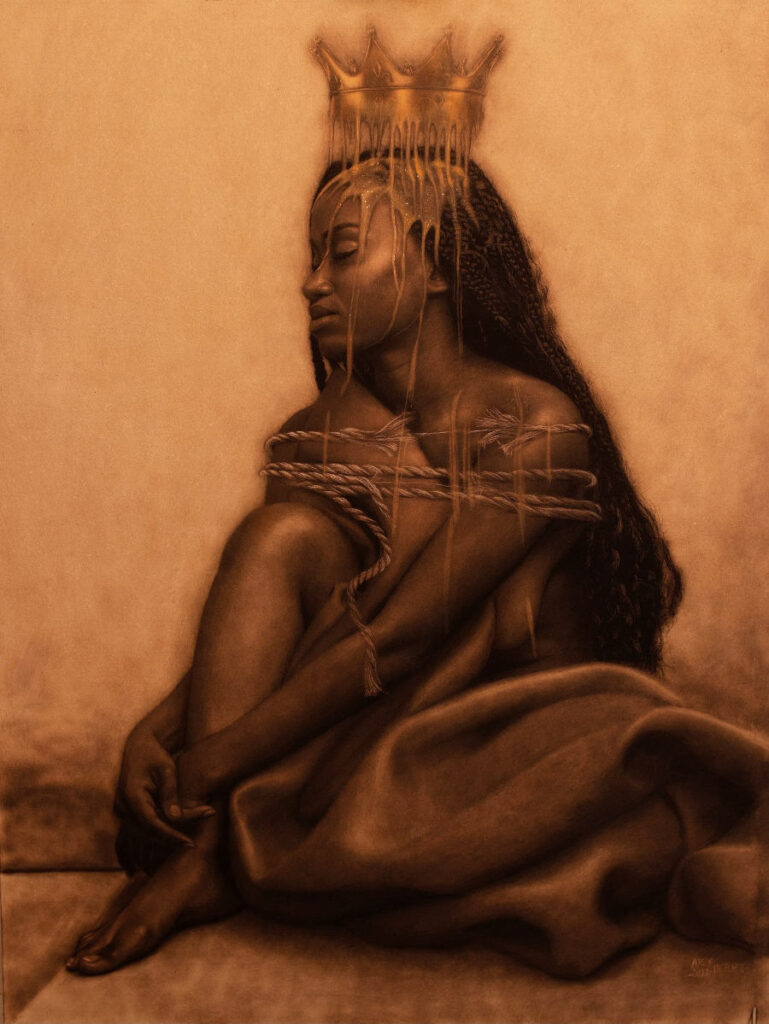 Winner of the ArtStation People's Choice Award
Beautiful Bizarre Art Prize 2022
Alex Peter Idoko
Title:
"Freedom's Rhythm"
Medium & Dimensions:
Fire, razorblade, sandpaper, charcoal, wood, 47″ x 36″
About the Artist
Alex Peter Idoko (b. 1992) discovered expression through art at a very young age in Lagos. He is self-taught in the techniques of painting and pyrography utilizing fire, razor blades, and sandpaper to draw on wood. His works of surrealism and hyperrealism harken African histories and realities as he endeavors to write, illustrate, edit, and rebrand Black story. Shining a light on Blacks of every continent, he accesses challenges and issues that surround them. In doing so, he advances positive images of humanity into the public domain, and lends a voice to those without the power to speak. Exhibitions at Omenka Gallery, Nigeria, Context Art Miami 2021, Moniker Art Fair 2018; Common Thread 2018. Honors include Award of Excellence, 2016, Benue Youth Choice Awards.
"Freedom's Rthythm" inherent in the tension of notes and rests is depicted as the bruised woman struggling in bondage. In the act of yielding to higher powers, freedom is decreed by the molten crown's tendrils releasing the ropes. This is a meditation on the dynamics of struggle, authority, freedom.