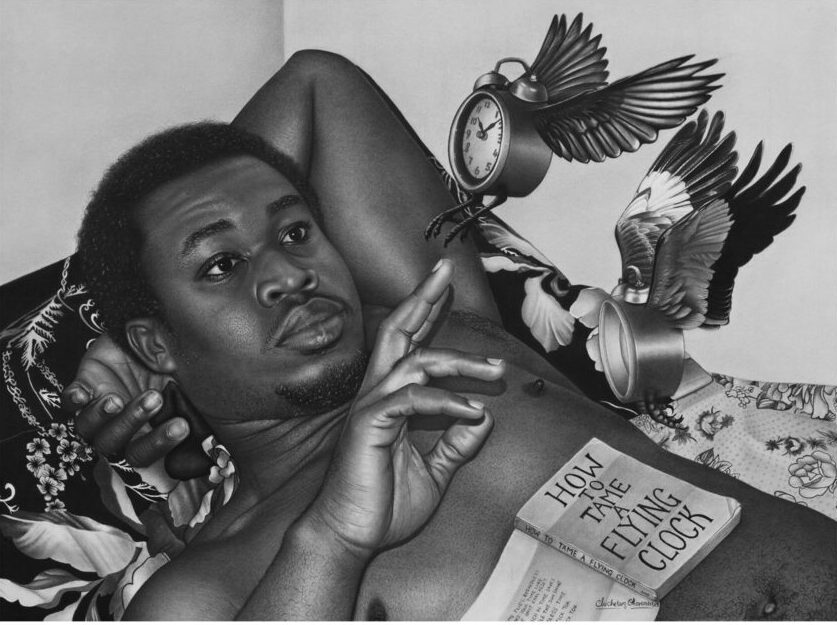 Winner of the People's Choice Award
Beautiful Bizarre Art Prize 2023
Chiche_Art
Title:
"My Time is Mine"
Medium & Dimensions:
Charcoal and Graphite Pencils on Watercolour Paper, 30″ x 40″
About the Artist
Chiche_art (b.1997) is a Visual Artist who lives and work in Enugu, Nigeria. Chiche has been creative since he was a kid and made art with objects and tools he found around him as at then. Motivated to improve in his craft after he saw some really amazing artwork by some notable artists he admired. Inspired by the beauty and power of the mind, he uses his art to speak on self-discovery, personal growth, Identity and mental health awareness specifically on how emotions govern the way people relate among themselves and their present environment. He primarily employs charcoal and graphite pencils as his tool while creating highly conceptual artworks where he marries surrealism with hyperrealism. Chiche has exhibited in Dak'art biennale among other exhibitions and also won the Over-all prize award in the prestigious LIMCAF art exhibition/Competition.
"My Time is Mine": In this self-portrait, Chiche_art explore reclaiming his time from societal pressures. Questions demanding productivity and perfection seek to dictate his life, but as a young man in his 20s, He learned that a fulfilling life revolves around embracing joy, connection, and saying no to incongruent opportunities. Chiche_art remind myself of the power to shape my own time, independent from societal pressures. Through this artwork, he inspires viewers to reflect on their relationship with time and make room for what matte.