We are proud to announce the 2023 Beautiful Bizarre Art Prize Jury Panel, comprising influential figures in the art world, including gallerists, curators, artists, and commercial and philanthropic arts champions. Beautiful Bizarre Magazine Co-Founders Danijela Krha Purssey & Richard Purssey, Directors of Haven Gallery, Erica Berkowitz and Joseph Weinreb, representatives from our major sponsors, and four esteemed contemporary artists Rebecca Leveille, Ellen Sheidlin, Ellen Jewett, and Laura H Rubin. Each Jury member excels in their field of expertise and is making waves around the world with their exceptional work. Get your work in-front of this respected Jury Panel, enter today.
2023 Beautiful Bizarre Art Prize Jury Panel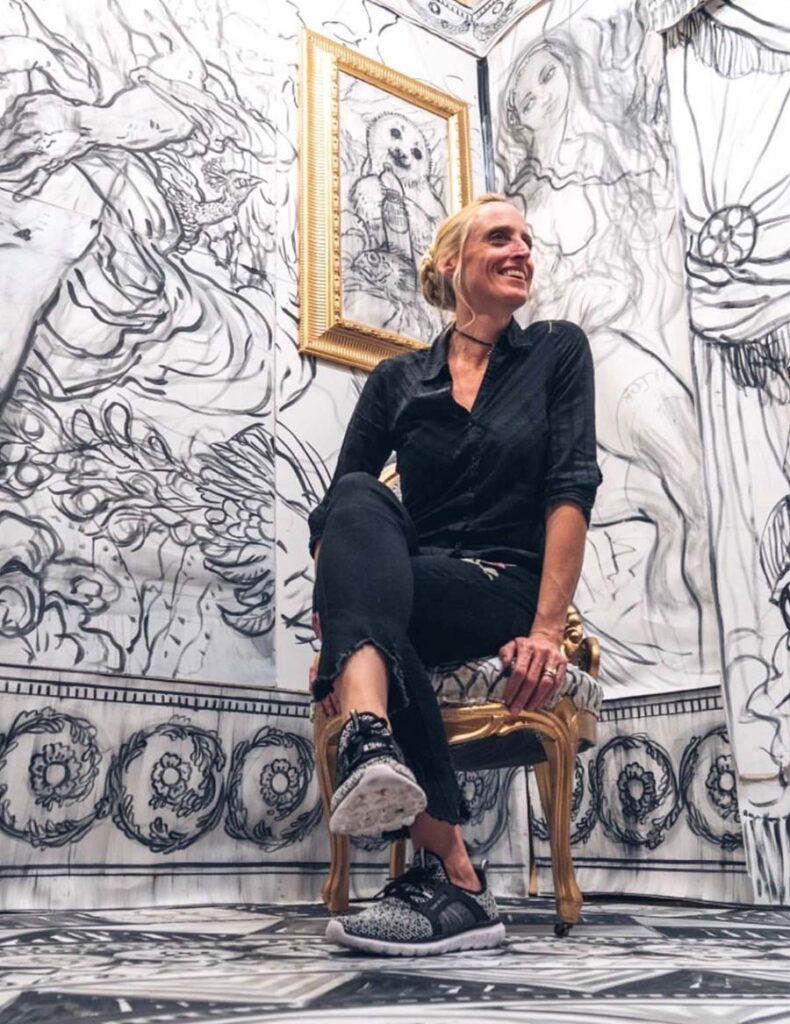 Traditional Art Category
REBECCA LEVEILLE // Artist
Website | Instagram
Rebecca Leveille is a contemporary artist working in a figurative mode. Freely mining both art historical sources and contemporary painting. Her practice involves a translation of pictorial practices and inner mythologies through her distinctive ability to compose lyrically gestured figures largely from imagination.
In her biographically driven explorations she delves into narrative, sensuality, the female gaze, media imagery, and Art World social phenomena.
A constant subtext of Leveille's art is her relationship to materials. Often working at large scale and immersive installations ,the assertion of materials never overwhelms the creation of pictures yet it forms an ever-present and voluptuous tactility with meanings of its own.
Leveille's art has garnered critical praise from art world voices. Her work has been featured in Hyperallergic, Juxtapoz, Art-Fuze, NY Magazines The CUT and others and her 2018 Show ( at Untitled Space in NYC) The End of Love was an Artnet Editors Pick. Leveille has been exhibited around the country including several previous group shows with the Untitled Space, The LBIF Annual Drawing Exhibition 2017 Juried by the Whitney Museum's Jane Panetta and The Spring Break Art Show 2018,19.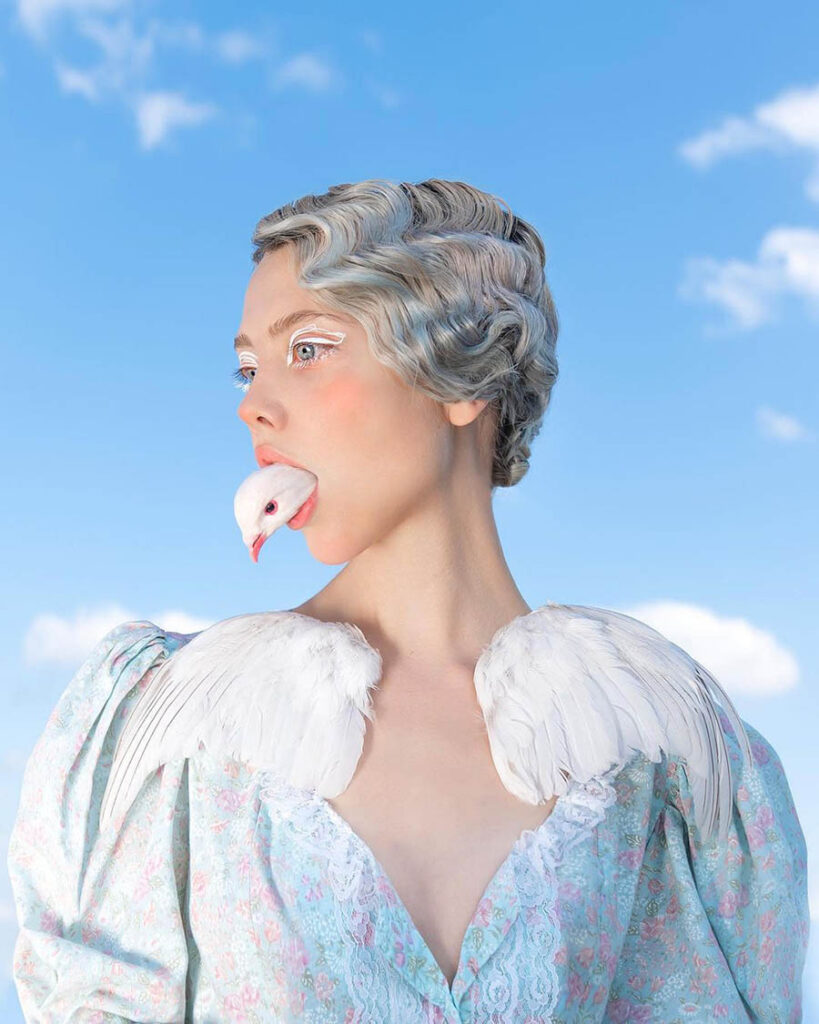 Photography
ELLEN SHEIDLIN // Photographer
Website | Facebook | Instagram
Ellen Sheidlin is a multimedia artist. Ellen creates digital photo and video images, works in the genres of sculpture and painting, and actively experiments with NFT technologies. For more than 10 years Ellen has used social networks as the main platform for her work, combining Internet aesthetics with images from personal mythology to create a personal author's world. Ellen herself describes the method she has developed as survirtualism – a mixture of the digital and the physical, the dreamlike and the real, the material and the intangible. The artist often uses her own image to create works, showing how versatile our personalities can be and how many different facets, sensations and worlds lie within each person. Ellen has exhibited all over the world, including in Tokyo, Florence, London, Paris and New York.
The artist's work has resulted in her main Instagram page with more than 4.3 million followers, as well as a page dedicated to Ellen's paintings with more than 200,000 followers.
Ellen also works extensively with brands, creating pieces for brands such as Nike, Esteé Lauder, Moncler, Bacardi, BMW, Instagram, Swatch, Schwarzkopf, L'Oreal, Coca-Cola, Pepsico and more.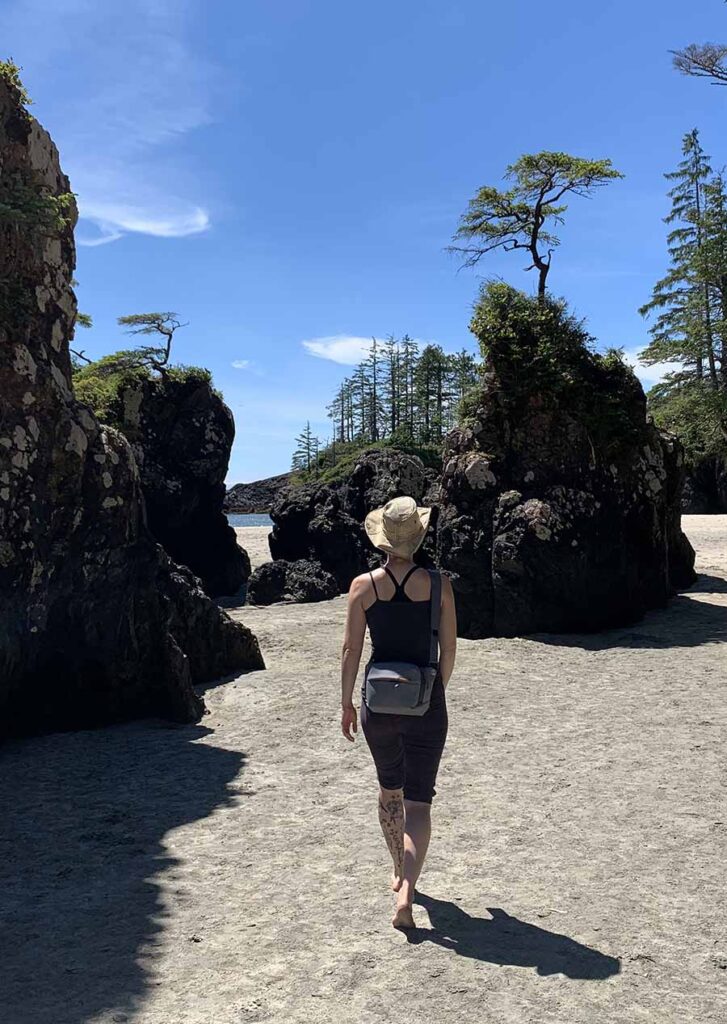 Sculpture Category
ELLEN JEWETT // Artist
Website | Facebook | Instagram
Ellen Jewett is a born sculptor who cultivated her unique practice from the ground up at a young age.Her work is internationally known for its life-like biological subjects, lush psychologically complex details, and seeming defiance of gravity.
Ellen's sculptures take us on a deep dive to glimpse the mind of the distant other. Each detail of Ellen's work, down to the finest filigree, is free-modeled by hand. Within each piece precision is balanced by chaos. The overarching aesthetic knocks on the door of realism, yet the hand of the artist is never intentionally erased; brush strokes and fingerprints abound. Even the narratives themselves harbor a degree of anarchy as they are rarely formally structured. Rather, Ellen seeks to achieve flow states while working to create a fluid progression of unconscious imagery. That imagery, as manifest in tiny ephemeral shapes and beings, forms relationships and dialogues organically. In the spirit of surrealism, this psychological approach to artistic expression creates a rich network of personal archetypes and motifs that appear to occupy their own otherworldly space. Within this ethereal menagerie, anthrozoology meets psychoanalysis as themes of natural beauty, curiosity, colonialism, domestication, death, growth, visibility and wildness are explored.
Over the past 10 years Ellen's sculptures have been featured in magazines, television, fine art anthologies, text books, and have made appearances on book covers and popular digital platforms. From American Craft, Beautiful Bizarre Magazine and Colossal to Salon Première Vision (Paris) and The Nippon Television Network (Japan), and many more. Her individual sculptures are featured in public and private collections around the world.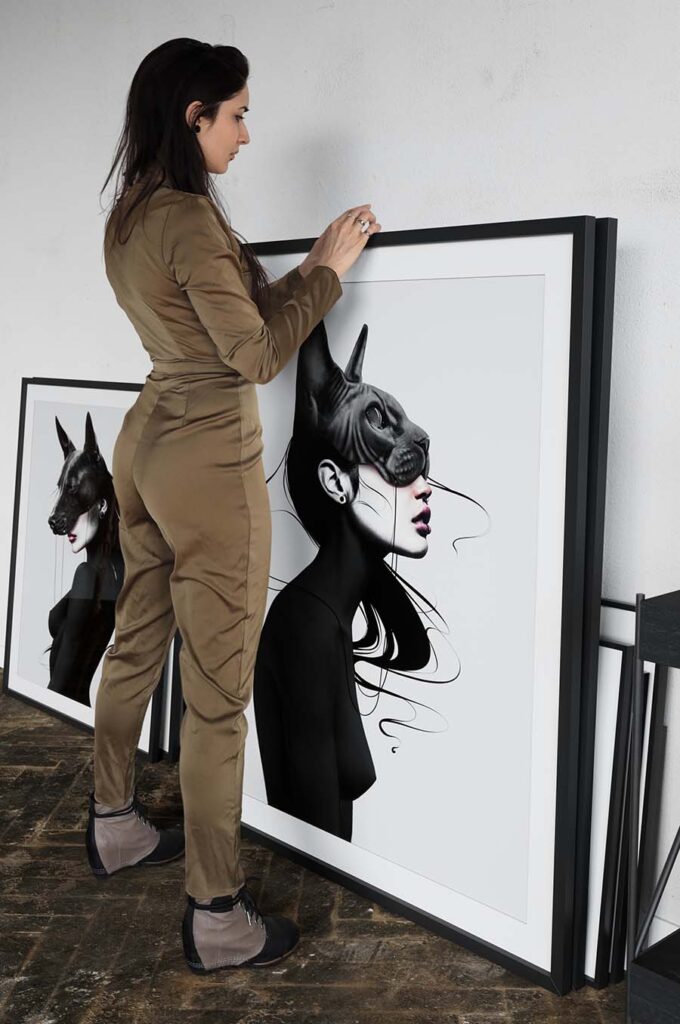 Digital Art Category
LAURA H. RUBIN // Artist
Website | Instagram | TikTok
Switzerland-based artist Laura H. Rubin is best known for her realistic drawings of strong female characters in minimalist portrait designs.
Laura discovered her love for digital art while studying film and visual effects at the SAE Institute in Zurich. After graduating, she pursued graphic design at the German Klett Academy and worked for several years as a designer in an advertising agency in Bern before deciding to start her own business with her art.
In partnership with publishers based in Paris, England, and Switzerland Laura has released a number of art and educational books.
She has also collaborated with some of the most prominent names in the film, gaming, and publishing industries, such as Disney, Ubisoft, Square Enix, and Simon & Schuster.
In 2020 and 2021 her work Apophis was the key visual for the STROKE one of the biggest art fairs in Germany.
Her work has been exhibited in cities such as San Francisco, Munich, Zurich, Paris, Basel, and Milan.
Beautiful Bizarre Magazine
DANIJELA KRHA PURSSEY // Editor-in-Chief & Co-Founder
Beautiful Bizarre Magazine
Website | Facebook | TikTok | Instagram | Twitter
Danijela Krha Purssey is an entrepreneur, and the Editor-in-Chief and Co-Founder of Australian based, international contemporary art magazine, Beautiful Bizarre Magazine.
She is deeply passionate and committed to her vision to help shift the paradigm in the global contemporary arts industry regarding what is defined and accepted as contemporary art.
Danijela has created a carefully curated, unique contemporary arts experience via all the Beautiful Bizarre Magazine touch points that inspires and champions emerging and mid-career creatives both locally and around the world.
Danijela founded Beautiful Bizarre Magazine in 2013 with her husband, Richard Purssey. In the 10 years since the launch of Beautiful Bizarre Magazine she has published 40 magazines, over 2,800 web articles, curated 15 exhibitions in 4 countries, launched the Beautiful Bizarre Art Prize, and shared the work of countless creatives from all corners of the globe to both the magazine readership and the magazines 1 Million + social media followers. Beautiful Bizarre Magazine has become not only an influential player in the contemporary art scene, but more importantly a voice, a tribe and platform for creatives whose work doesn't always fit neatly into the traditional fine art "box".
In late 2016 Danijela was awarded the prestigious AMP Foundation 'Tomorrow Makers' Award, and grant funding in recognition of her services to the visual arts, and to expand Beautiful Bizarre Magazine.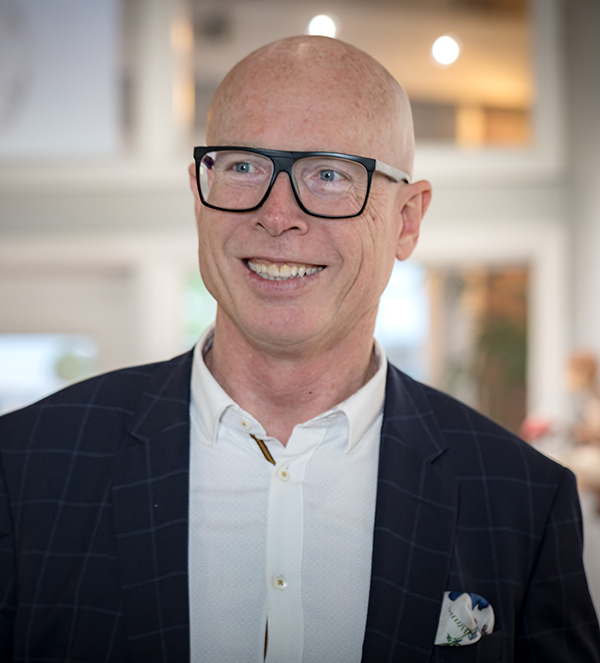 Beautiful Bizarre Magazine
RICHARD PURSSEY // Technical Director & Co-Founder
Beautiful Bizarre Magazine
Website | Facebook | TikTok | Instagram | Twitter
Richard Purssey is an ICT Director who is also a lifelong collector and appreciator of modern art. During the life of Beautiful Bizarre Magazine Richard has interviewed some of the finest contemporary realist artists from around the world, and been intimately involved in the creation of Beautiful Bizarre as a leading voice in the world of figurative art in all mediums. He has also been closely involved with the fine arts during his time as CIO of one of Australia's most prestigious public galleries, the Art Gallery of New South Wales.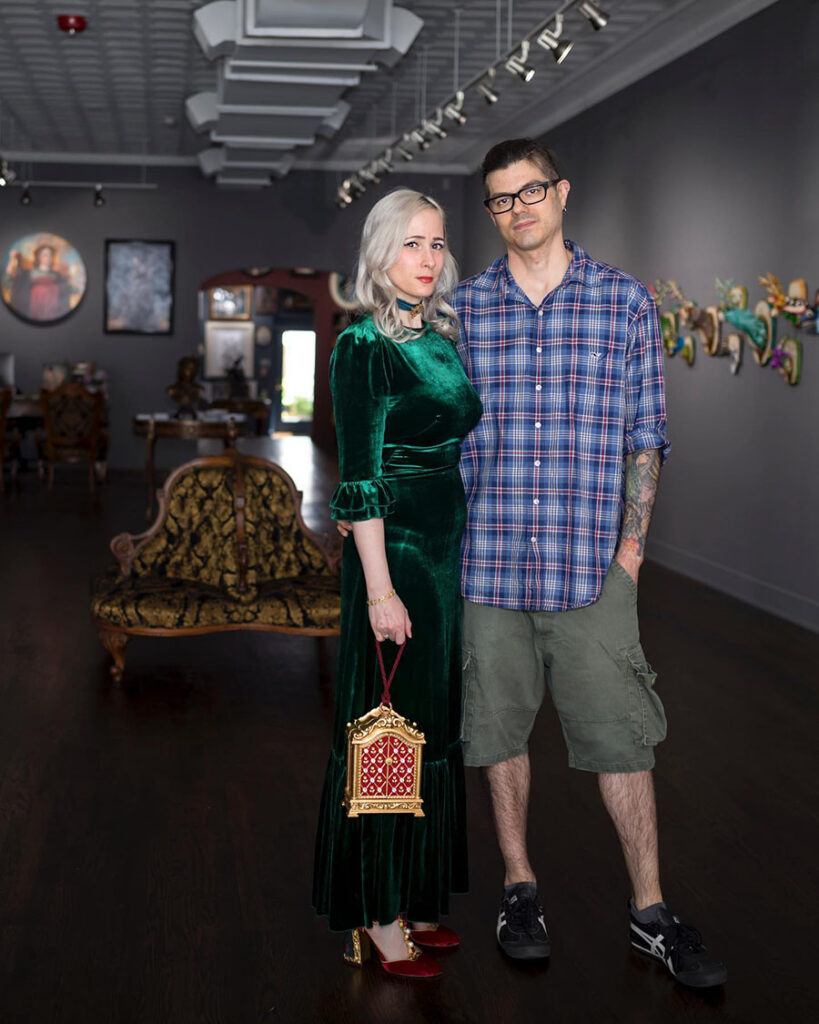 Haven Gallery
ERICA BERKOWITZ & JOSEPH WEINREB // Owners & Directors
Haven Gallery
Website | Facebook | Instagram | Twitter
Haven Gallery's focus is on exhibiting emotionally, intellectually and imaginatively driven, representational artwork that connects the audience and artist with universal axioms and passions. We work with both emerging and established artists who transcend their medium and subjects by exploring the world around them as well as the one within themselves.
Erica Berkowitz has her Bachelor's Degree in Art History from Stony Brook University and her Master's Degree in Contemporary Art from Sotheby's Institute of Art. She has worked locally on Long Island at the Nassau County Museum of Art and the Islip Art Museum and in Manhattan at established galleries in Chelsea, 5th ave, Midtown and Soho. She has been working in the art world for over fifteen years and is also a self published author. Along with her husband, she has been collecting art for over a decade.
Joseph Weinreb has his Bachelor's Degree in Graphic Design from NYIT. His career has encompassed graphic and web design work for a multitude of clients. He is an established oil painter and his passions lies in creating and working with other artists.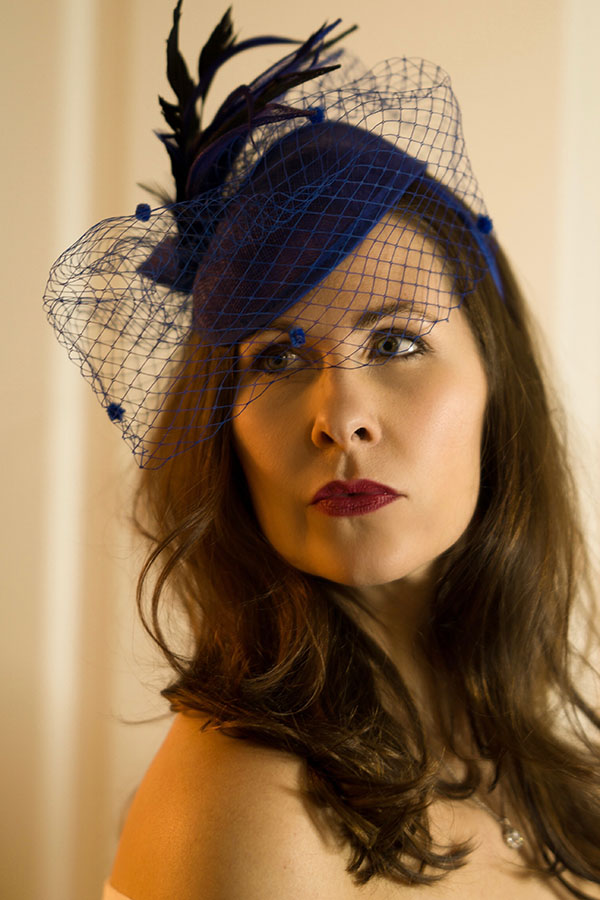 Arts Champion
EMILIE DIETRICH // President & Creative Director
RAYMAR
Website | Facebook | Instagram
Emilie is the President and Creative Director of RAYMAR, makers of fine art painting panels used by professional artists worldwide. RAYMAR is a second generation family art supply business that has been dedicated to the craft of fine art materials since 1998.
After graduating from the University of Notre Dame's business school, Emilie worked as a foreign exchange and commodity broker with the Chicago Board of Trade. Financially successful yet creatively stifled, she left finance in search of a more artistic life and attended Parsons School of Design in NYC. In 2008, Emilie was called to carry on her father's legacy. She then took up the reins of RAYMAR and grew the company it into what it is today.
As an artist herself, Emilie discovered the importance of good art materials to advance one's work. Now it is her mission and passion to craft art panels with the world's finest materials to serve as the foundation for one's artwork. It is her hope that with the right materials, artists will be empowered to bring their creative visions to life, and ultimately add more beauty and meaning to the world.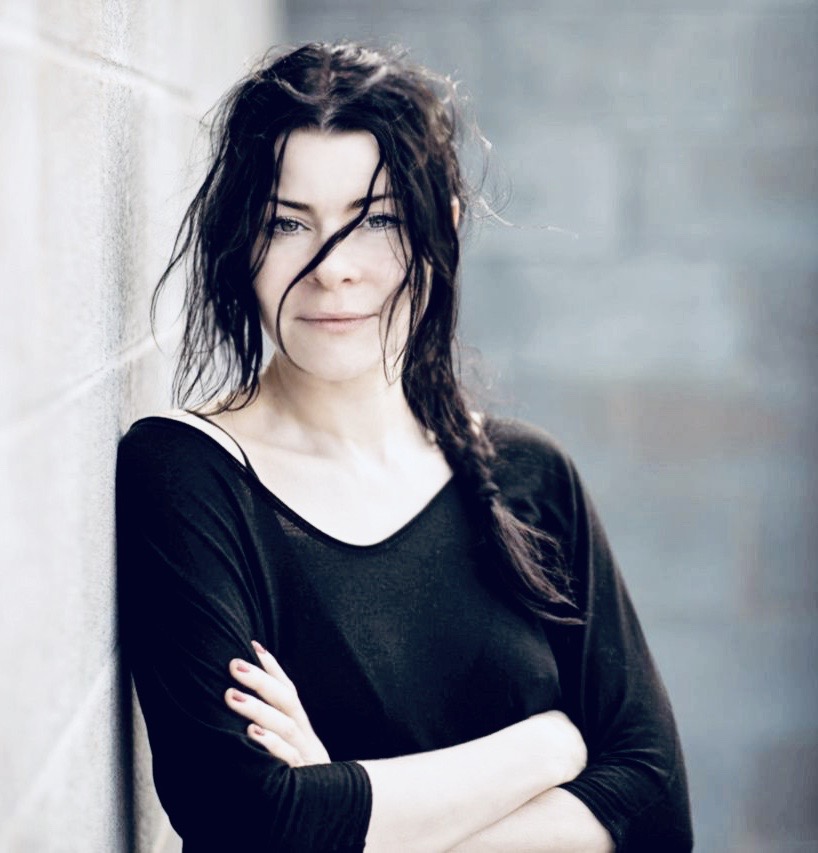 Arts Champion
YASHA YOUNG // Founder
Yasha Young Projects
Website | Facebook | Instagram
Yasha Young is a Senior Executive and Curator with 25 years of global project production experience (Humboldt Forum Berlin, MOMA Italy, UN NYC, Foreign Ministry Germany, Sotheby's, Saatchi, Phillips, ART Cologne, Rothschild Collection, SONY Music, Levis, Nike, Patreon, Universal Music, Art Basel, Lollapalooza, SuperBloom, Goethe Institut, Berlin Biennale, NYC Fashion Week).
She is the Founder, Concept Creator, and Founding Executive Director (2013 -2019) of URBAN NATION Berlin – worldwide first Museum for Urban Contemporary art and a unique interdisciplinary project on a global scale.
Her passion is working in innovation and as City Concept Developer and Creative City Planning Advisor, and Collection and Art Portfolio Manager for private clients and institutions. Yasha also works as an international Public Speaker (TED talk, SXSW, etc.).
Since January 2020, Yasha is a partner and Concept Developer and Executive Curatorial Director for the FOR_M New York City, a new institution currently in development. The FOR_M produces cutting-edge art exhibitions and projects with social engagement and cultural change at the core of its mission.
Projects include the Women for Women event in Saudi Arabia 2022 and Imagine the Future Art tour in Iceland 2022.
She studied Museology at Harvard and teaches as Associate Professor in Art and Music Business at the Pop Academy Mannheim, Germany.
Philanthropy includes: Patron for Children's Hospice Berlin Heart and Keep A Breast Cancer Charity Foundation and from 2020 sponsor of the Yasha Young Projects Sculpture Award as part of the Beautiful Bizarre Art Prize.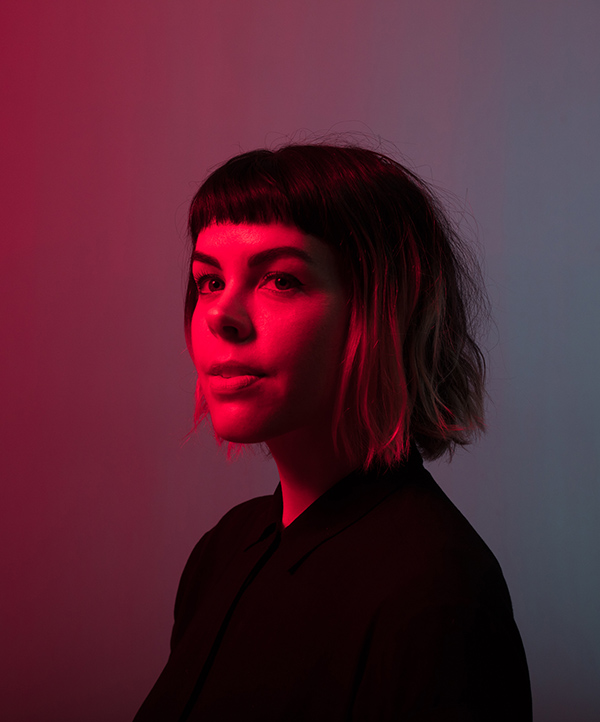 Arts Champion
ASHLEY HEAFY // Independent Design + Creative Strategy
INPRNT
Website | Facebook | Instagram | Twitter
Ashley Heafy is an independent designer and creative strategist representing INPRNT, a fine art marketplace producing gallery quality prints for artists around the world.

Ashley graduated with a BFA from The School of the Art Institute of Chicago with an emphasis in Visual Communication. Over the years, she has helped build brands and creative content for a variety of clients in the arts, entertainment, hospitality, real estate, and media spaces. As an independent creative operating her own business for over 7 years, Ashley has a passion for helping elevate the talents and business acumen of fellow artists to make earning a living as an artist a successful reality.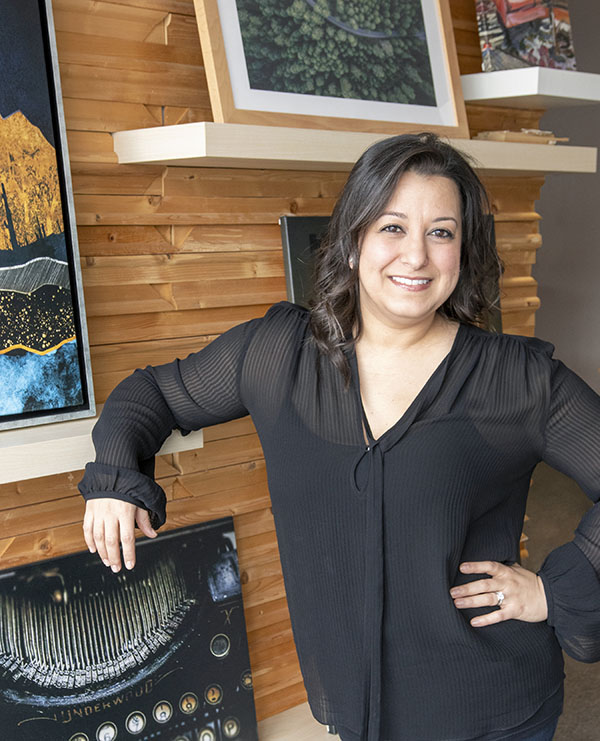 Arts Champion
SALLY WOLFF // Licensing Manager
iCanvas
Website | Facebook | Instagram | Twitter
Sally Wolff is an established professional with over 15 years of experience in the Fine Art industry and currently serves as the Licensing Manager at iCanvas. iCanvas partners with independent artists, many of whom appeared in Beautiful Bizarre, to offer high-quality reproductions of their creations on iCanvas.com and exposes their work to emerging collectors worldwide.
Wolff received her Art History degree from the University of Wisconsin at Milwaukee, and went on to serve as the Curatorial Assistant of the Early European Art department at the Milwaukee Art Museum. After executing several historical exhibitions and adding significant pieces to their permanent collection, Wolff proceeded to the prestigious Martin Lawrence Galleries (MLG). Here she spent more than a decade managing the Chicagoland location, showcasing the largest private collection of Museum Masters from the 20th and 21st Century, and curating exhibitions featuring many masters, including Pablo Picasso, Salvador Dali, Andy Warhol, and Roy Lichtenstein. As an art enthusiast and collector, her passion permeates all aspects of her life. Wolff joined iCanvas to share her experience and knowledge of the Fine Art industry in order to empower new independent and high-profile artists in their success through partnerships with iCanvas.