Exclusive Interview with Tina Yu, 3rd Prize Winner of the Yasha Young Projects Sculpture Award 2021 Beautiful Bizarre Art Prize. Interview conducted by Lucy Jones.
Glistening mermaids and sparkling centaurs, cloud bunnies and rainbow candy. A kaleidoscopic circus of characters awaits as you tumble down the rabbit hole into the dream world of Tina Yu. Mystical mythology and fairies of fable unite in this cast of hybrid humans, animals and otherworldly creatures.
Unlike anything you've seen or even imagined before, Tina's sculptures are truly unique. Cute, creepy and sickly sweet – her enchanted artworks cast a trance-like spell on the viewer. Adorned with beautifully intricate and mysterious details, we can only watch in wonder at the secrets they conceal. Jump on a cloud, drink the magic potion and take a leap into the unknown.
About the Artist // Tina Yu is a Chinese-raised, New York-based sculptor and artist. After developing an interest in sculpting in college, she decided to pursue her passion after graduating from Pratt Institute. Drawing inspiration from movies, animals, nature, Chinese culture, family and childhood memories, Tina brings her imaginary characters to life through sculpture.
Working primarily with epoxy clay, Tina has developed an incredible level of technical skill, with the ability to sculpt even the most intricate details of human and animal anatomy. Over the years her fantastical artwork has attracted a huge following on Instagram, YouTube and Patreon, where she shares her skills via tutorials and time-lapse work in progress videos.
Recurring motifs include signs and symbols of Chinese culture alongside feminine sensuality, metamorphosis, and mysticism. Her artwork could be described as a spiritual successor to the famous Roman poet Ovid, whose poetry charted the transformation of humans, animals and objects into other forms. His mission statement "I intend to speak of forms changed into new entities" sums up the shape-shifting shenanigans we see in these fascinating sculptures.
Although there is still so much to learn about sculpting, I haven't lost my passion. It brings me so much joy that I can connect with people from all over the world with my art.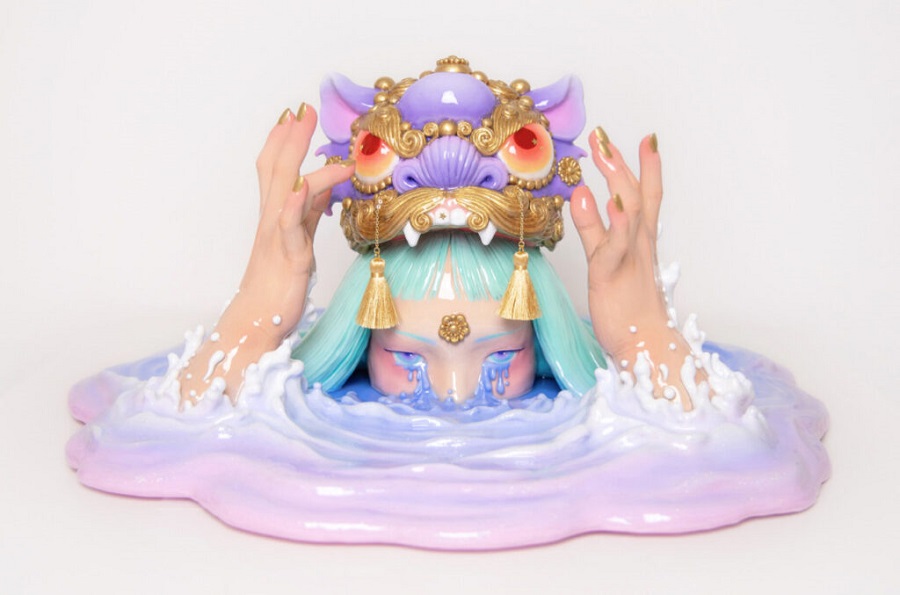 Exclusive Interview with Tina Yu
You have achieved so much in your career in a very short time, with a number of solo and group exhibitions behind you already. Can you talk about your journey to becoming a freelance artist? How did you get started and what inspired you to try sculpture?
Growing up in China, I've been studying pretty much my whole life. Going to weekend art classes was a norm for me as a child, and I learned still life painting and photorealistic pencil drawing. After high school, I moved overseas to attend art school in NYC. During my four years in art school, I explored different mediums such as watercolour, acrylics, and oil paint.
I started dabbling in sculpting during my senior year purely out of interest and curiosity. Also, I felt a little lost at the time because I couldn't picture myself working in the graphic design field, which is what I majored in. I feel like I can truly express myself through sculpting, and turning my imagination into actual 3D forms is so exciting! The first sculpture I made was for my senior project. Although there is still so much to learn about sculpting, I haven't lost my passion. It brings me so much joy that I can connect with people from all over the world with my art.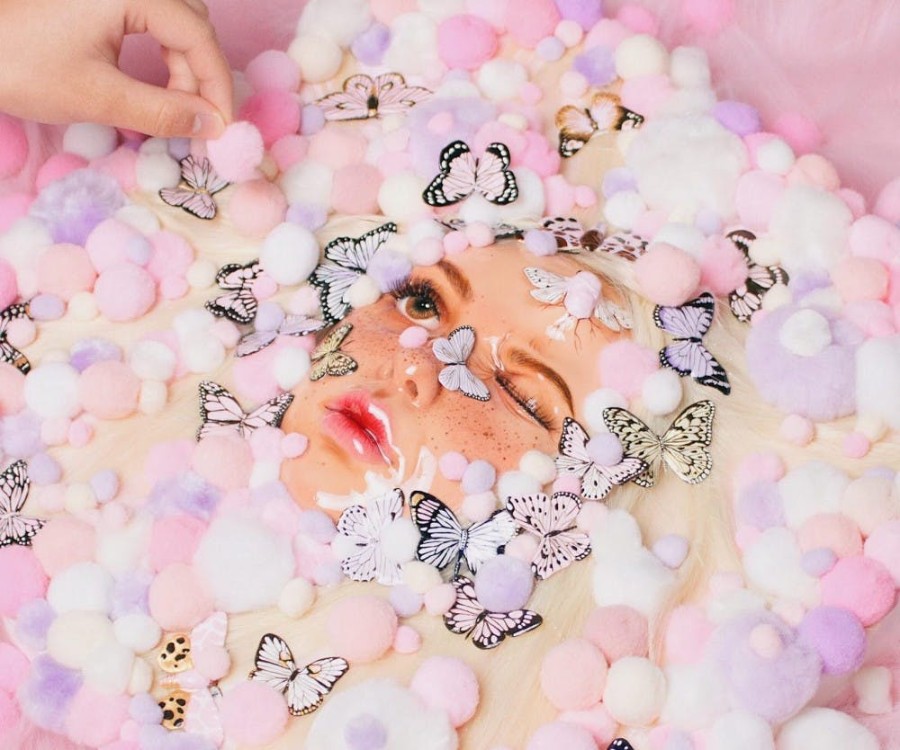 I think everything in life can become an inspiration if it means something to you. It can be as small as the colour of the leaves starting to change outside your window or an unforgettable childhood memory.
Your work shows boundless imagination. It's surreal, dream-like and always intriguing. Where do you get your inspiration?

I like to observe the small good things around me, and I think everything in life can become an inspiration if it means something to you. It can be as small as the colour of the leaves starting to change outside your window or an unforgettable childhood memory that always brings you joy. My inspiration comes from my life and culture, memories and imagination, nature and animals, movies and TV shows, etc.
With your Beautiful Bizarre Art Prize piece SHUI, we see a defiant figure emerging from a sea of what seems to be tears. Can you talk more about this piece and the meaning behind it?
As a teenager, my biggest challenge in life was not knowing who I was or who I wanted to be. I felt like I lived up to other people's expectations. By creating an emotion that contrasts with the joyful elements of lion dancing, I want to reflect on the complex feelings I had growing up.
There seems to be a theme of mythical metamorphosis in your work, with human figures transforming into animals and magical hybrid creatures, or from one state to another. What is the significance of transformation to you and your work?
I was always fascinated by the mythical creatures in ancient history, folklore, and legends. But also I think it represents the love and bond between humans and animals, and when they live happily and peacefully together in this world.
You have a unique style that is really unlike anything else in today's contemporary art scene. Which artists have you been influenced by over the years?
I grew up watching Studio Ghibli animation movies, so Hayao Miyazaki. James Jean is another favourite artist of mine.
Hands are often featured in your work, and they are notoriously one of the most difficult parts of human anatomy to draw or sculpt! All of your sculpture shows an incredible level of technical skill. How did you learn about working with clay, and are there any challenges in working with this medium?
In the beginning, I was working with polymer clay, which is an excellent medium for practising sculpting skills. Later on, in 2019, to be specific, I switched to epoxy clay. There are pros and cons to each medium. The biggest challenge with polymer clay is that it requires baking, thus limiting the sculpture size. But you can work on polymer clay as long as you wish.
Sometimes, I like to use polymer clay to sculpt faces, mould them, and cast them using epoxy clay. Since epoxy clay is a self-hardening clay, it allows me to work on bigger sculptures, but in the meantime, you only have about three hours of working time before the clay becomes too stiff. I've also become more familiar with how the texture of epoxy clay changes over time. I would work on larger areas during the first hour and work on the small details after two hours when the clay becomes a bit hardened, so it holds shape better. As for the finished result, epoxy clay is more durable and sturdy, and it works with the majority of paint mediums and varnishes when polymer clay has some limitations.
I feel like each medium has its own "personality." You need to work with them long enough to become more familiar with their traits. Then you can pick which one works the best for you, kind of like a relationship.
Why did you enter the Beautiful Bizarre Magazine Art Prize?
I was honoured to get invited by Beautiful Bizarre Magazine on Instagram. I didn't expect to get selected or anything, so I told myself, "it's just for fun" because I hadn't entered any contests before the Beautiful Bizarre Art Prize, not since I was little. I think it's a great opportunity, so why not!
What do you feel you have gained from this experience?
A boost of encouragement and motivation. As a self-taught sculptor, it means a lot to me to be selected as one of the finalists, let alone winning the 3rd prize.
Would you recommend it and encourage others to enter?
Yes, because, why not?
What are you looking forward to doing next? Can you say anything about any new projects or challenges?
I'm currently designing and producing my original limited edition collectible character, which has been quite stressful while working on art shows and creating consistent video content. Still, it has been a dream of mine, and it's all coming together. I can't wait to share it with everyone!
Tina Yu Social Media Accounts