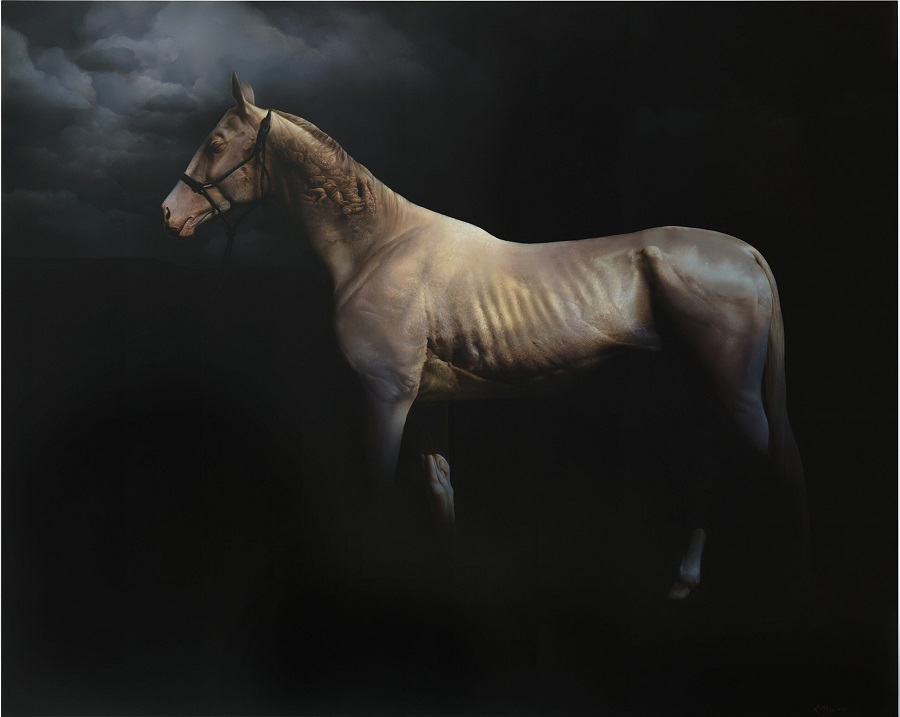 Grand Prize Winner
Beautiful Bizarre Art Prize 2021
Roland Mikhail
Title:
"Memory's Descent"
Medium & Dimensions:
Airbrushed Acrylic on Wood Panel, 40″ x 30″
Roland's work was published in Issue 35 of Beautiful Bizarre Magazine.
About the Artist
Roland Mikhail is the son of first generation Egyptian immigrants and lives in Sunset Park Brooklyn. He is a painter, sculptor, anatomy instructor at Pratt Institute, and artist in residence at the North American Sculpture Center. He is an expert in Jujitsu, mythology, and symbolism, and has spent the better part of the last decade excavating his childhood allowing him to unearth the hidden parts of psyche. This journey and all of these inquiries are reflected in his work.
"Memory's Descent": If images contain a potential glimpse of our own veiled soul, I like to think the bridal suggests the relationship between the mind and our own animal body; like horse and rider. Between head and torso, is a ruin of bodies unseen by the subject. What do our bodies carry that the mind can't see.
The 2021 Beautiful Bizarre Art Prize is proudly sponsored by
MAJOR PARTNERS
SILVER SPONSORS
SUPPORTING SPONSORS