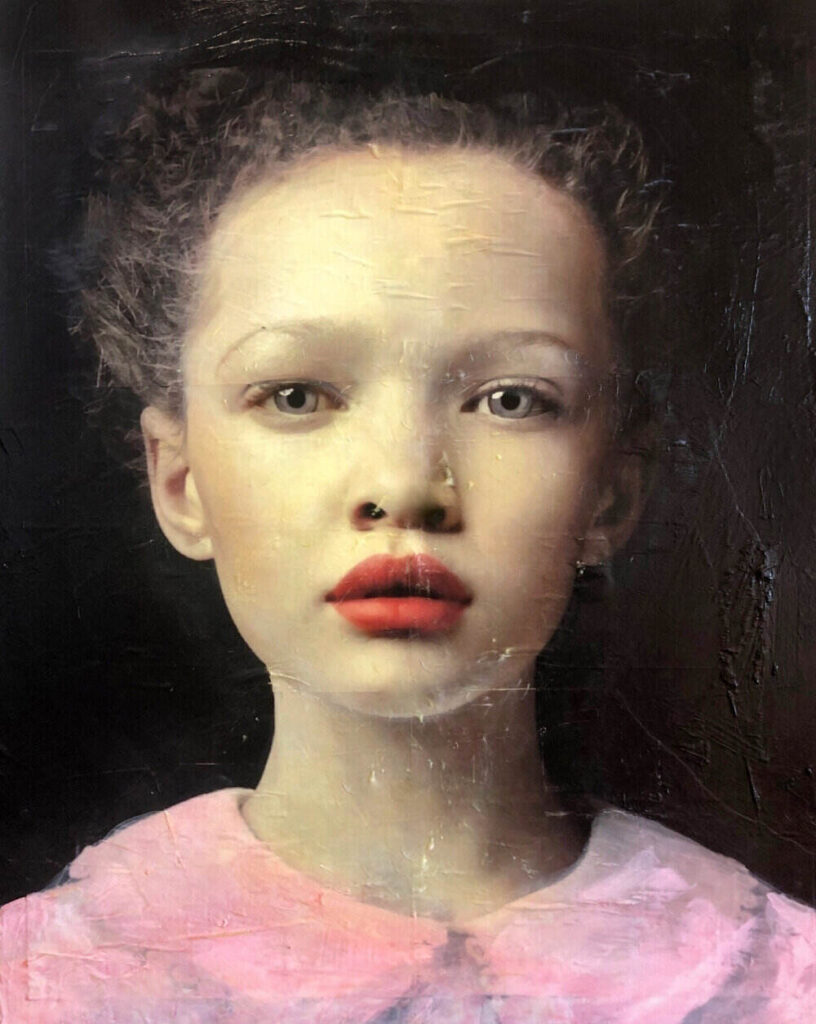 3rd Prize Winner
RAYMAR Traditional Art Award
Beautiful Bizarre Art Prize 2021
Lavely Miller
Title:
"God Shot Me in the Face and Then I Saw"
Medium & Dimensions:
Acrylic on paper on canvas, 40″ x 30″
Lavely's work is being published in the upcoming Issue 37 of Beautiful Bizarre Magazine.
About the Artist
Lavely Miller (b. 1978, Camp Lejeune, North Carolina) is a contemporary realist painter who works in large scale. Mark Jenkins, writing for the Washington Post, describes her work as containing depths that are "both metaphorical and literal. That the format evokes Renaissance art seems apt… her paintings have an eerie timelessness." Miller draws reference from faces she observes around her, close members of her family and friends, found images in the media and film stills. She paints with her fingers, building layers and layers of acrylic and thick gel medium. Awards for Miller's painting include a top prize at 2013's Art Basel and fellowships at the Virginia Center for the Creative Arts and Dacia Gallery in New York City. Her work has been published in interviews, reviews and textbooks worldwide.
"God Shot Me in the Face and Then I Saw": For the past 20 years I've painted in acrylic with my fingers. Recently, I've begun incorporating glazing layers and painting on paper which is glued to either canvas or wood. The paper I use contracts and expands in reaction to being affixed to another surface, creating a crinkling effect.