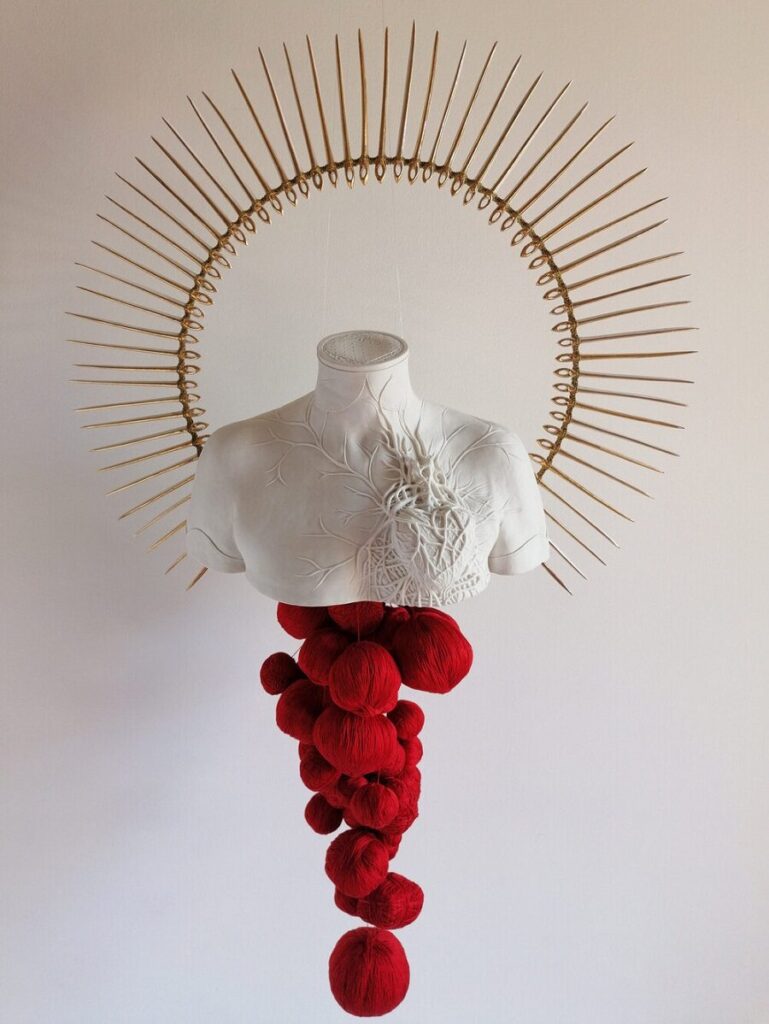 Honourable Mention
Beautiful Bizarre Art Prize 2021
Juli About
Title:
"To Our Pains"
Medium & Dimensions:
Porcelain, embroidery thread, metal frame, gold wire, 94cm x 61cm x 24cm
Juli's work was published in the Issue 36 of Beautiful Bizarre Magazine.
About the artist
Juli About fortuitously discovers porcelain, and this material will become central, revealing a way of being in the world. To work with porcelain is to do with the inherent fragility of the material, but also its own. It is a material that must be taken care of. Whatever the medium, she questions the body, privacy, but also the environment. His research questions the limit between the body and the landscape; its porosity. What goes in, goes out, what nourishes, blesses. How is the link between the inside and the outside told? Between oneself and the other. This questions our vulnerability, and ambivalence. "The work on the votive offerings is a way of talking about the whole body. The party for everything. A global metonymy. We are a part of the whole. Part of the landscape. The body is a landscape within a landscape. A sort of ex-voto of the whole of nature. This is why taking care is fundamental, of everything as a fragment of the whole. "
Awarded by Beautiful Bizarre Magazine's Editor-in-Chief, Danijela Krha Purssey.